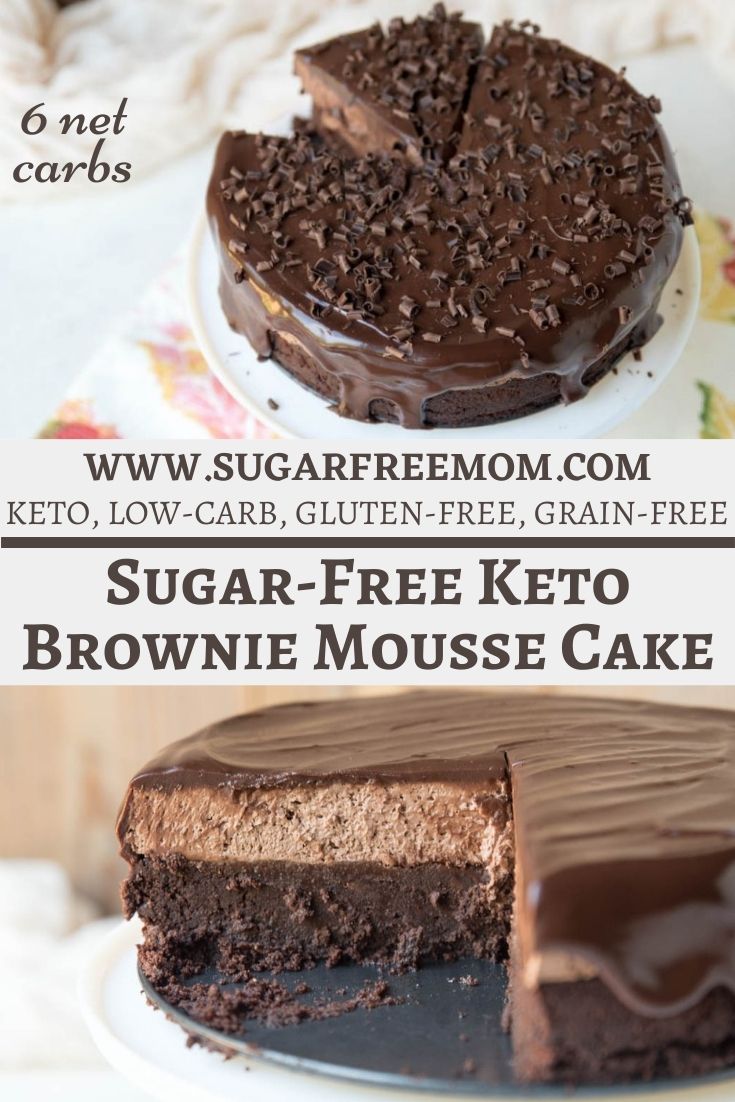 The ultimate chocolate lovers dream is this triple chocolate layered brownie mousse cake made sugar free, low carb, keto, nut free and gluten free! Curbs those chocolate cravings on a low carb diet or keto diet!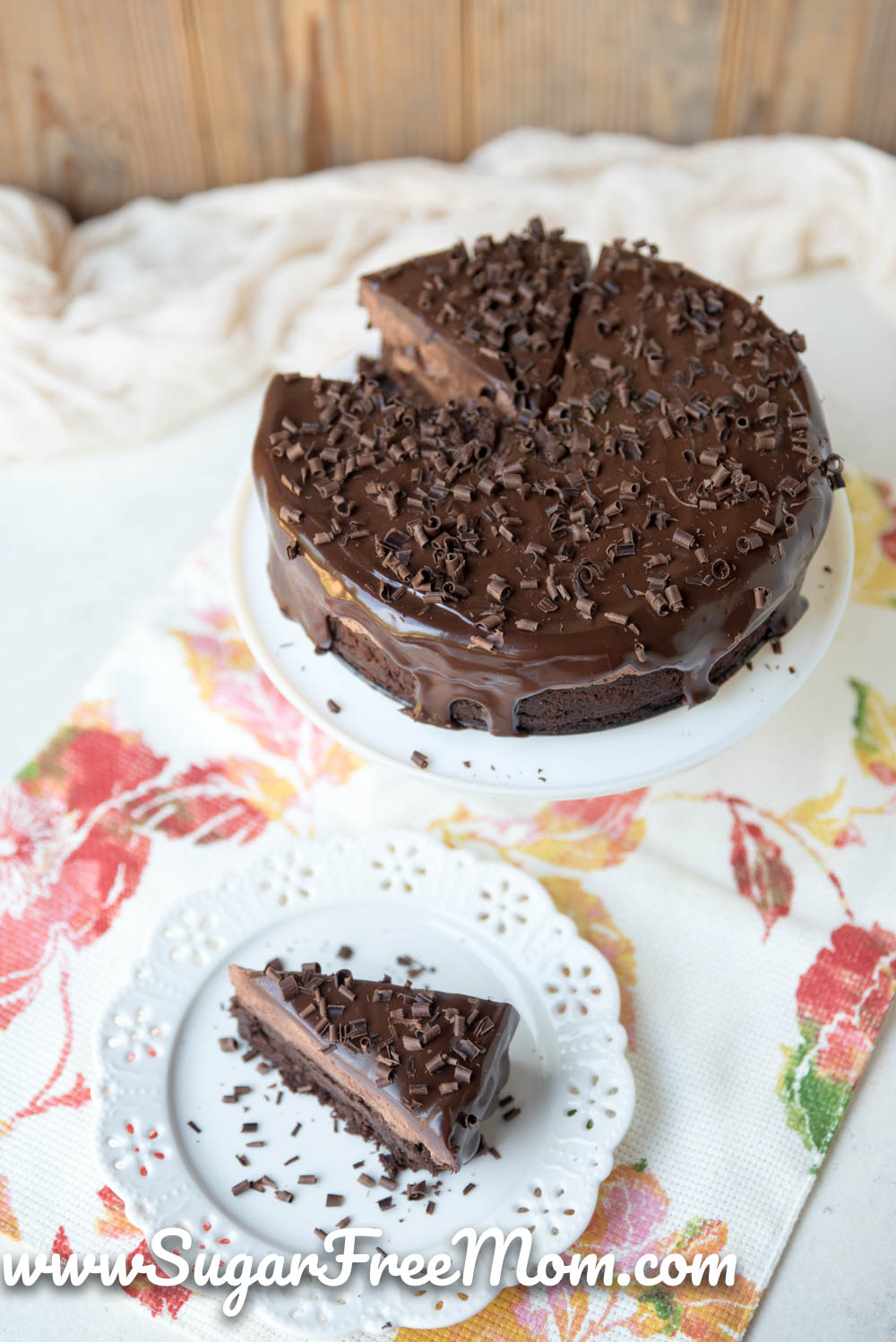 SUGAR FREE BROWNIE KETO CHOCOLATE MOUSSE CAKE
This sugar free triple chocolate mousse brownie cake is a heavenly dream for anyone who loves chocolate! It starts with a fudge brownie as the base, a creamy homemade chocolate mousse in the middle and is topped with a smooth, silky chocolate ganache! 
If you need an elegant, restaurant quality dessert for a special occasion, this is the keto cake to make! I made this for my momma's 76th birthday and the entire family were in awe of not only how delicious it was but how stunning it was!
They could not believe this delicious dessert was a sugar free, low carb chocolate cake!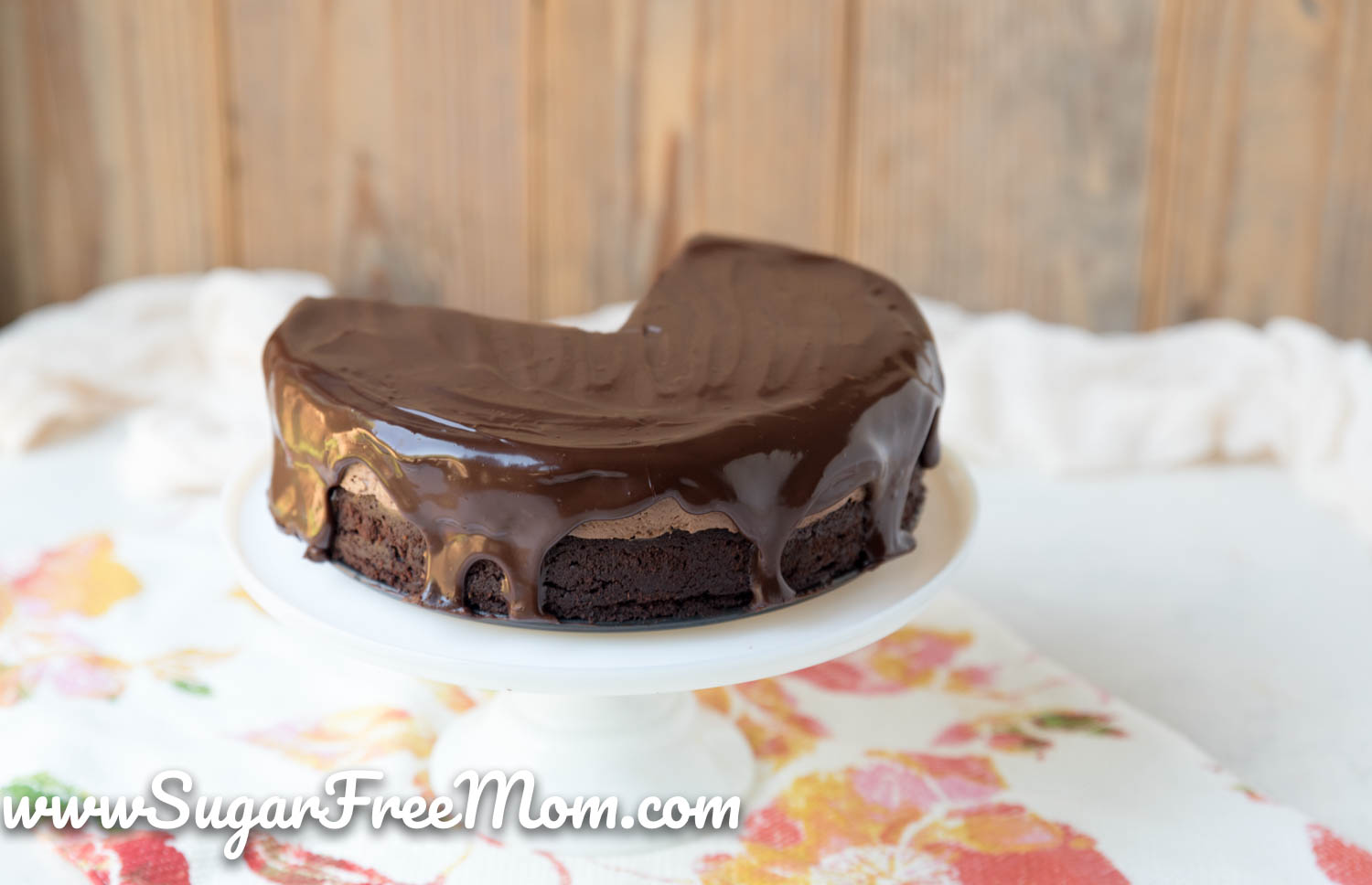 Yes you can make this low carb chocolate mousse cake dairy free but it will take a little bit more work. 
To make the fudgy brownies dairy free simply swap the butter with coconut oil and the heavy cream for canned coconut milk. The easy keto chocolate mousse will be difficult to adapt this recipe here so my suggestion is try this dairy free chocolate mousse recipe instead.
I adapted this sugar free cheesecake fluff recipe to make the keto mousse cake for this keto brownie cake. To make the ganache dairy free, I think you could swap out the heavy cream with canned coconut milk.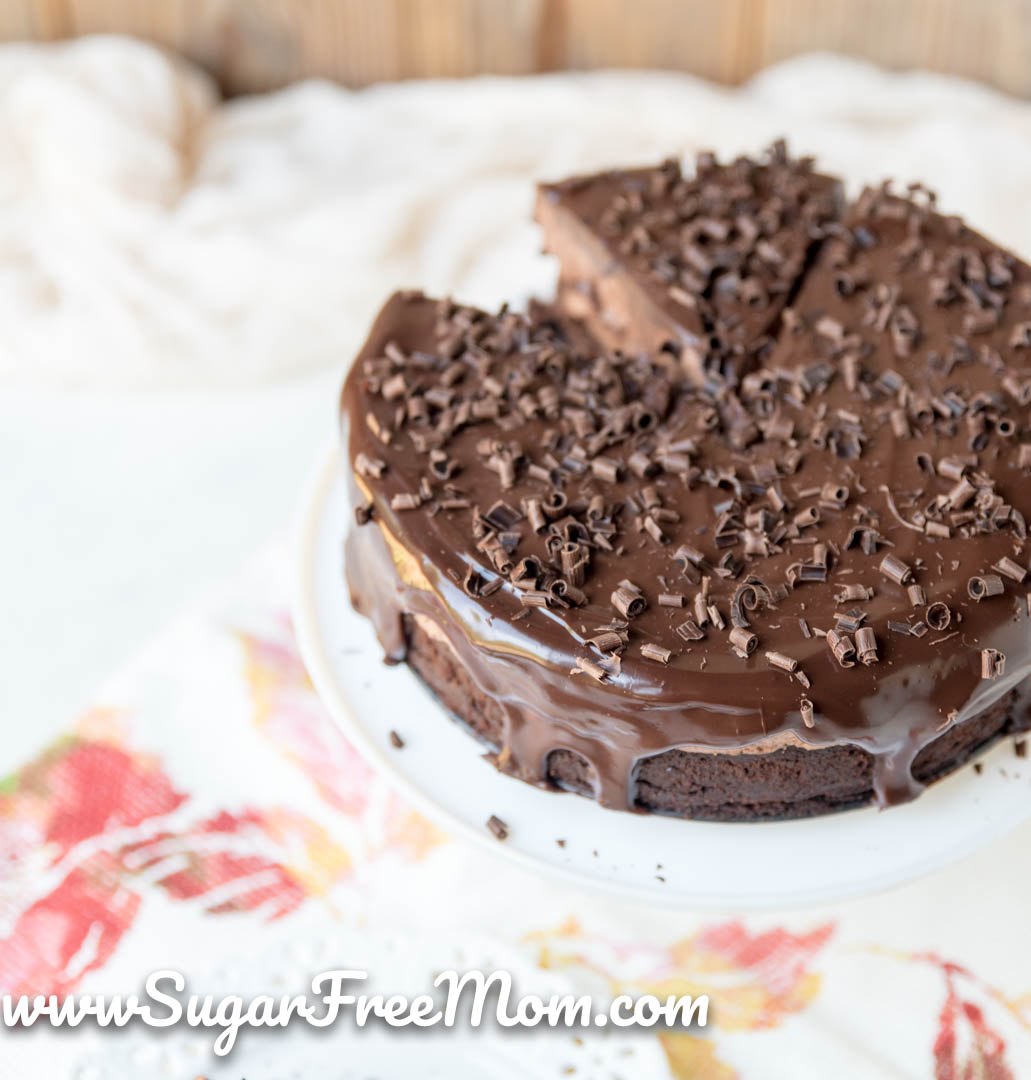 CAN I SWAP THE COCONUT FLOUR WITH ALMOND?
No unfortunately you can not equally swap the coconut flour in this recipe for almond. Coconut flour is highly absorbent and requires more eggs and liquids to create a moist brownie.
About ¼ cup coconut flour is equal to about 1 cup almond flour. 
If you don't want to use the keto brownies recipe here with coconut flour, you could try this flourless brownie layer from my cheesecake brownies recipe.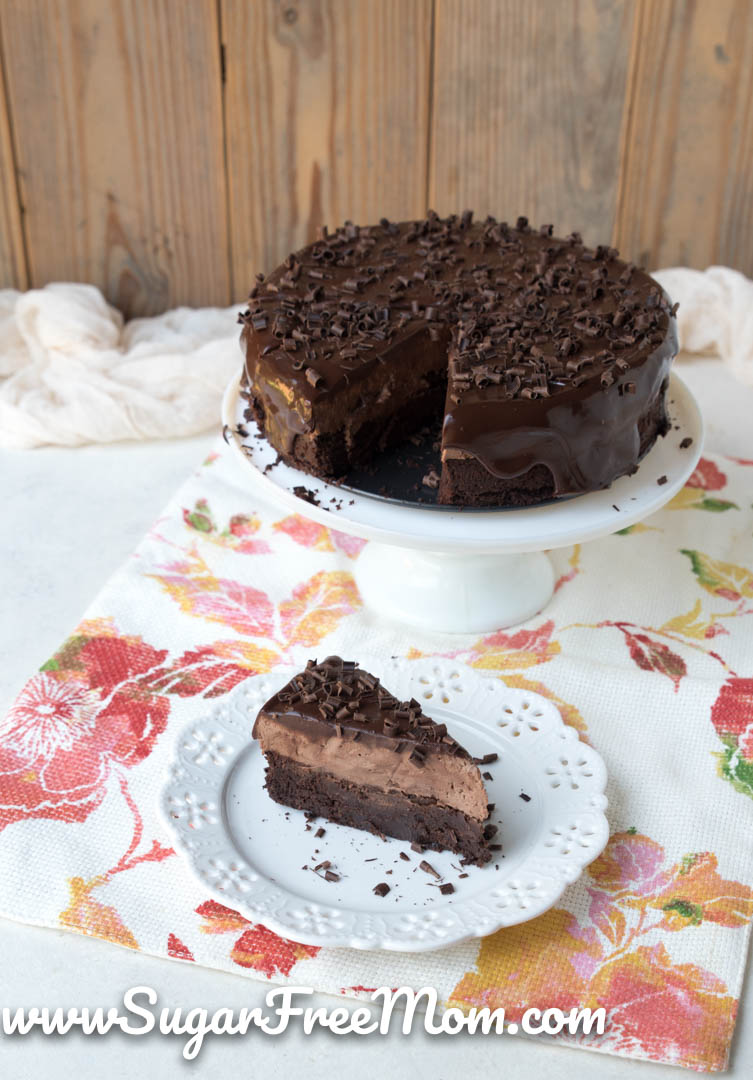 CAN I LEAVE OUT THE GELATIN?
You could leave out the gelatin in the keto chocolate mousse recipe, but I would not recommend adding ganache until you are ready to serve.
Without the gelatin in the creamy keto chocolate mousse, it may be very soft and not firm enough to hold its shape with ganache on top. So wait to slice, serve a piece, then top with ganache. 
HOW TO SWAP LOW CARB SWEETENERS
Swapping sweeteners in my recipes is not hard at all. I've made it even easier with my new sweetener conversion chart! I've been creating sugar free recipes for the last 15 years using many different sweeteners.
My conversion chart is written from my vast experience with experimenting with all these sweeteners.
You may see many of these conversion charts online, but they are not all the same and some I've seen I greatly disagree with.
You can trust my keto sweetener conversion chart as the most accurate and precise sugar free sweetener conversion chart and the last one you will ever need for all your keto baking.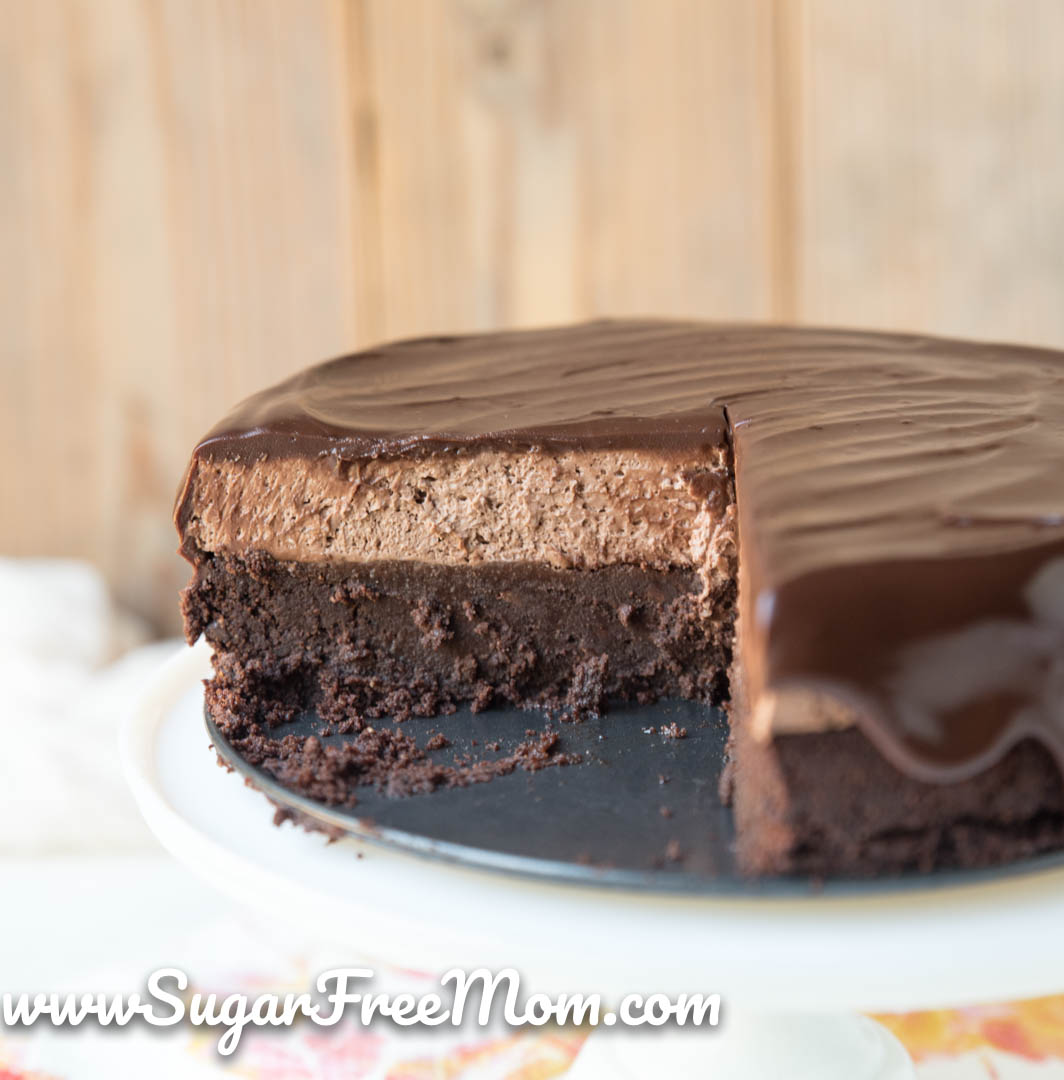 BEST TIPS FOR PERFECT GANACHE
Tip #1 Use the best sugar-free chocolate chips or dark chocolate chips that does not contain artificial sweeteners.
I use Lily's Sweets Chocolate Chips because it acts just like regular chocolate sweetened with sugar when melted and it does not have any aftertaste. 
Tip #2 Do not boil the cream, you just need a low simmer to warm it up. Once you see a few bubbles forming, pour immediately over the chocolate chips in the bowl. 
Tip #3 Use chocolate chips, not a bar. If you are going to use a chocolate bar instead of chocolate chips, you need to break the bar into very small chunks or you will have a lumpy ganache because the pieces won't melt enough.
Tip #4 DO NOT STIR FOR 15 MINUTES!! I repeat, do not stir for 15 minutes. Trust me on this and you will always make a perfect ganache.
Allow the hot cream to do its thing and slowly melt the chocolate chips. You will have a much easier time when you do finally stir as all the chips will be soft. You will have a perfectly smooth ganache.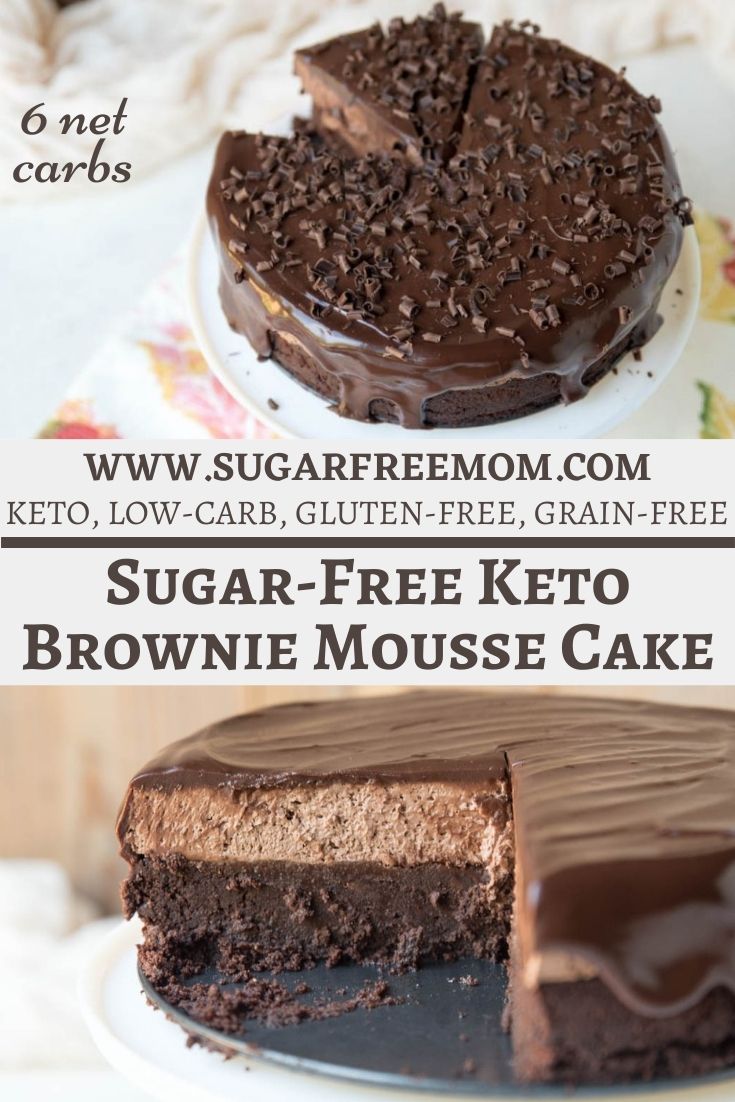 More Creamy Chocolate Desserts
Sugar Free Keto Chocolate Caramel Lava Cakes
Sugar Free Keto Chocolate Frozen Yogurt
Sugar Free Keto German Chocolate Cheesecake Cake
SUGAR FREE KETO BROWNIE MOUSSE CAKE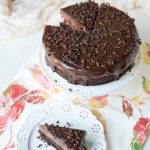 Print
Sugar-Free Keto Brownie Mousse Cake
Servings 16 servings
Calories 397kcal
Author Brenda Bennett | Sugar-Free Mom
Instructions
To Make Brownie
Melt the chocolate chips and butter over low heat on the stove or use a microwavable mixing bowl and microwave for 1-2 minutes and stir until completely smooth. Set aside.

Preheat oven to 350 degrees F.  Grease an 8 inch springform pan or use parchment paper and place pan onto a small baking sheet pan.

Add the oil, eggs, yolk, vanilla extract, stevia and cream to a stand mixer with the whisk attachment or large bowl and use a hand mixer, mix until combined.

Slowly pour in the melted chocolate while the mixer is on low speed.

Add the remaining dry ingredients and blend until combined.

Stir in the optional chocolate chips if desired.

Pour batter in pan and bake dessert for 30 minutes. Allow to cool completely before proceeding.
To Make Mousse
In a small microwavable bowl pour the water, sprinkle gelatin and heat 30 seconds. Stir until smooth and no lumps. Set aside.

Place the cream cheese, vanilla, sweeteners, cocoa and salt into a stand mixer and blend until smooth. Scrape down sides of bowl and blend again.

Pour in heavy cream and blend until combined well. On low speed, drizzle in the gelatin and blend until smooth. Spread mousse over cooled brownie base making sure to push the mousse all the way to the edges of the springform pan. Cover with plastic wrap and refrigerate 2 hours or overnight before adding ganache.
Ganache
Heat the cream in a small sauce pan on the stove. Place the chocolate chips in a small bowl. Once simmering, pour the cream over the chocolate chips, do not stir. Allow to sit for 15 minutes then stir until completely smooth.

Remove your cake from the fridge and use a sharp knife around the edges making sure you are getting all the way to the bottom of the pan to release the brownie. Remove the spring form and place cake onto serving plate.

Pour the ganache in the center of the mousse cake and use a spatula to smooth it out toward the edges so it spills over the sides.

Optional: Use a vegetable peeler and shave sugar free chocolate bar over the top to make curls of chocolate.

Store covered in the fridge for up to 5 days. 
Notes
Net Carbs: 6g
This recipe was first published in October 2021.
Nutrition
Serving: 1piece | Calories: 397kcal | Carbohydrates: 9g | Protein: 4g | Fat: 38g | Saturated Fat: 20g | Polyunsaturated Fat: 1g | Monounsaturated Fat: 4g | Trans Fat: 1g | Cholesterol: 71mg | Sodium: 168mg | Potassium: 58mg | Fiber: 3g | Sugar: 1g | Vitamin A: 509IU | Calcium: 33mg | Iron: 1mg