This delicious Keto Low Carb Easy Salmon Caesar salad recipe with avocado includes a quick and easy caesar dressing plus cooking options for air frying, baking or pan searing salmon to perfection!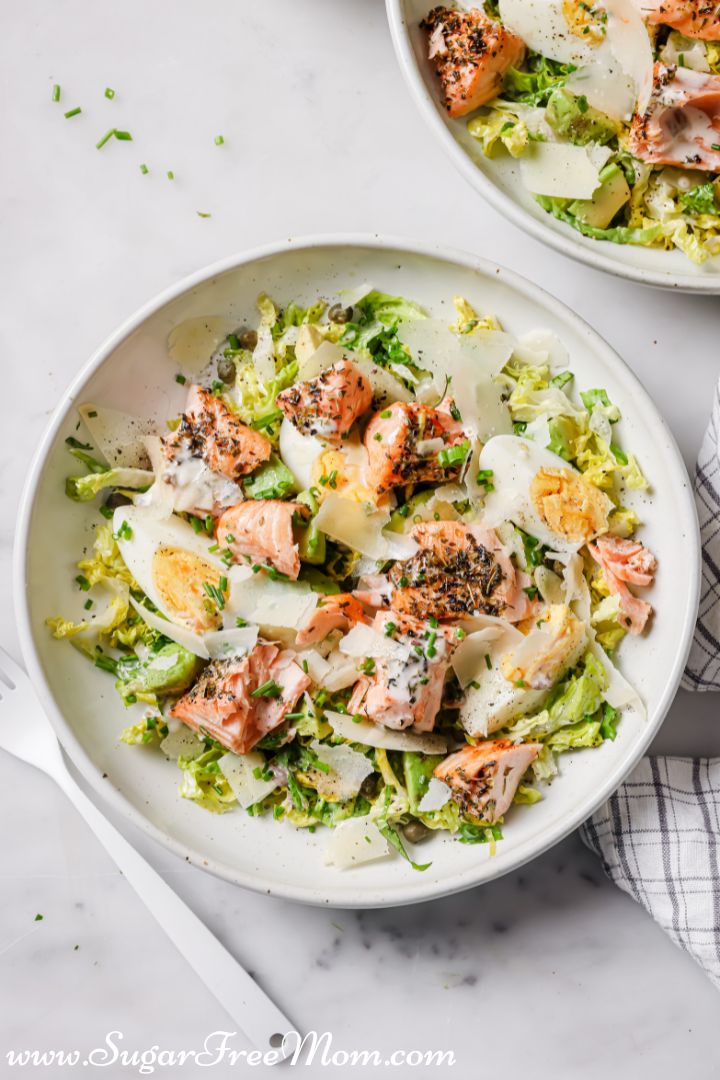 Classic Caesar Salad Recipe
Classic caesar salads are low carb or keto as long as you remove the traditional croutons usually offered on top of the salad. We add heart-healthy salmon as well as avocado in this delicious salmon salad recipe. We've included some options for making your own healthy keto croutons.
​Contrary to popular belief, dietary fat does not make you physically fat. Healthy fat is nothing to fear. Eating a low-fat diet is neither the key to weight loss nor the way to eliminate sugar cravings. The 30-Day Sugar Elimination Diet, Brenda Bennett, page 50
Learning which fats and oils to consume is one of the most important things you can do for your health, longevity and quality of life. 
Healthy fats are essential to a well-functioning body and critical for many purposes, and necessary for certain hormones to function properly.
They also act as building blocks for cell membranes, protect the linings of your organs and help you absorb fat-soluble vitamins A, D, E and K. Plus, fat makes food delicious! Enjoying healthy dietary fat can increase your satiety levels and help regulate the speed at which you digest your food. 
Your body and brain function requires a healthy balance of omega 3 fatty acids and omega-6 fats. Unfortunately, omega-6 is abundant in vegetable oils and meat from grain-fed animals, which makes it easier to come by than omega-3.
A dominance of omega-6 can cause inflammation. You want to avoid anything inflammatory because inflammation leads to a host of other issues, especially with keeping your blood sugar balances and losing weight.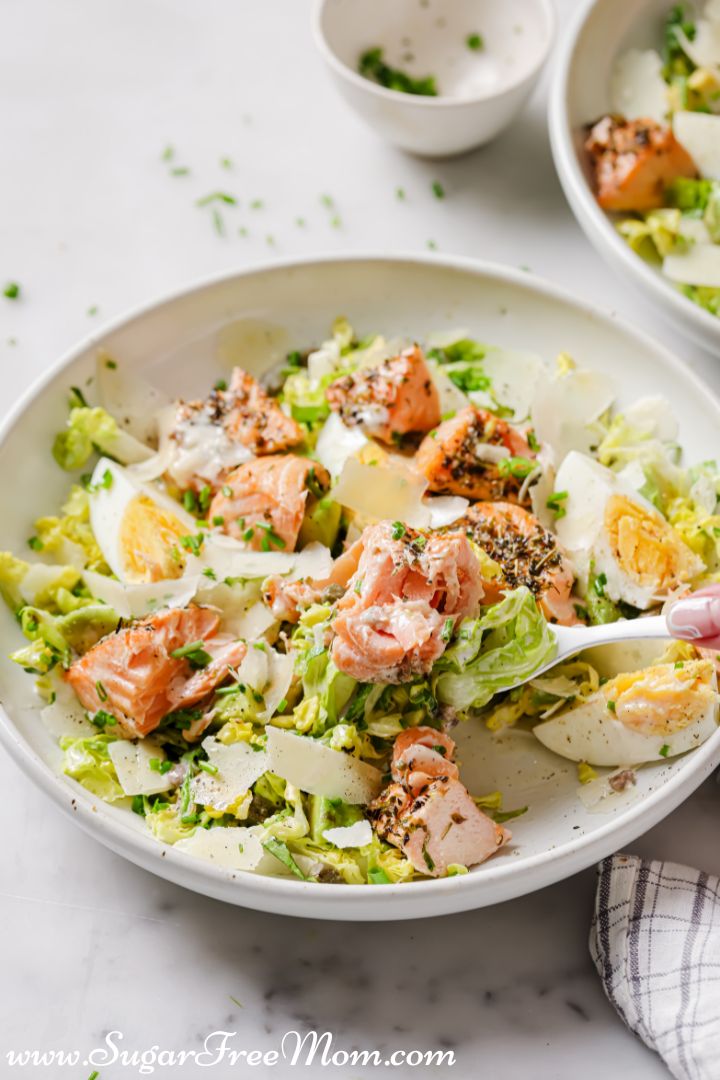 Simple Ingredients for Keto Caesar Salad
Crisp Romaine Lettuce- nice and cold and fresh makes this salad sing!
Creamy ripe avocado, not typically in a Caesar salad but we think it makes it even better!
Capers
Large eggs, hardboiled is best. 
Parmesan cheese, shaved or you could also swap with Parmesan crisps
Fresh chives
Delicious homemade caesar dressing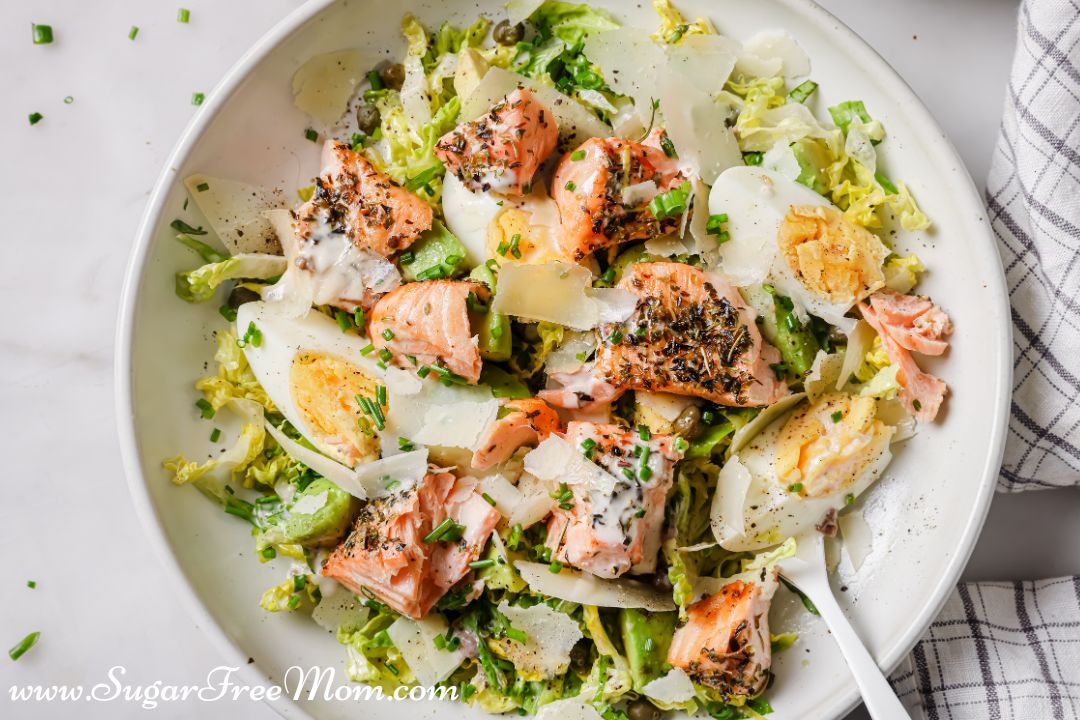 Homemade Keto Caesar Dressing
This homemade caesar dressing recipe is easier than you think!
Traditional caesar salad dressing includes raw eggs, most often just yolks, but in our great recipe we use avocado oil mayonnaise in place of raw eggs. Even without the eggs, this is the best caesar dressing! 
If you want to take a short cut and avoid making this easy homemade dressing, you can purchase Primal Kitchen Caesar dressing which is fantastic because they use avocado oil. 
Keto Homemade Croutons
To make a Caesar salad a keto friendly salad, you will either need to make keto bread for homemade croutons or buy a keto bread at your local grocery store or just skip the croutons. 
Keto Bread Options
Coconut Flour Bread
Almond Flour Bread
Cloud Bread
Once you've made your keto bread, simply cut it into chunks and allow to dry on a baking sheet pan. You could also toast until golden brown.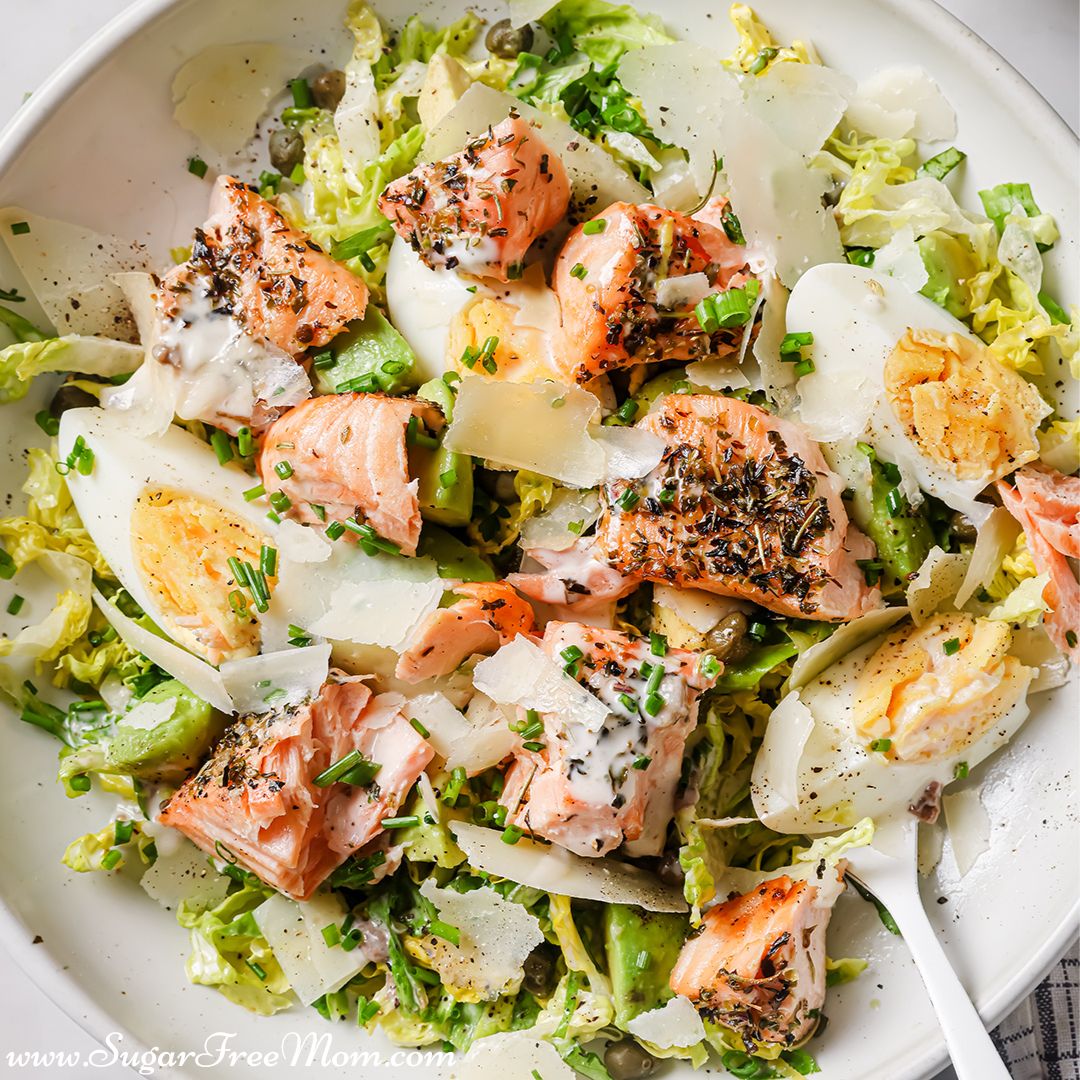 What If I Don't Have an Air Fryer?
I air fried the salmon but you can totally pan fry it or bake in the oven if you prefer. 
Baked Salmon
If you don't have an air fryer, you can also bake the salmon. Line a baking sheet pan with parchment paper and place in a preheated 400 degrees F oven for about 12-14 minutes. 
Pan-Seared Salmon
Heat olive oil or avocado oil in a cast iron skillet over medium heat. Place salmon skin side down and sear for about 10-12 minutes. Flip halfway through cooking.  
Use a meat thermometer to check salmon for internal temp 145 degrees F. 
Swap Salmon
If you don't want to cook salmon at all, simply swap with smoked salmon or even canned salmon.
You could also swap with chicken breasts or tuna if you don't like salmon. 
Can I Leave out the Anchovy?
If you really hate anchovy, you can leave it out of the dressing, but if you've never tried it before, it really gives this creamy dressing that little bit of umami flavor!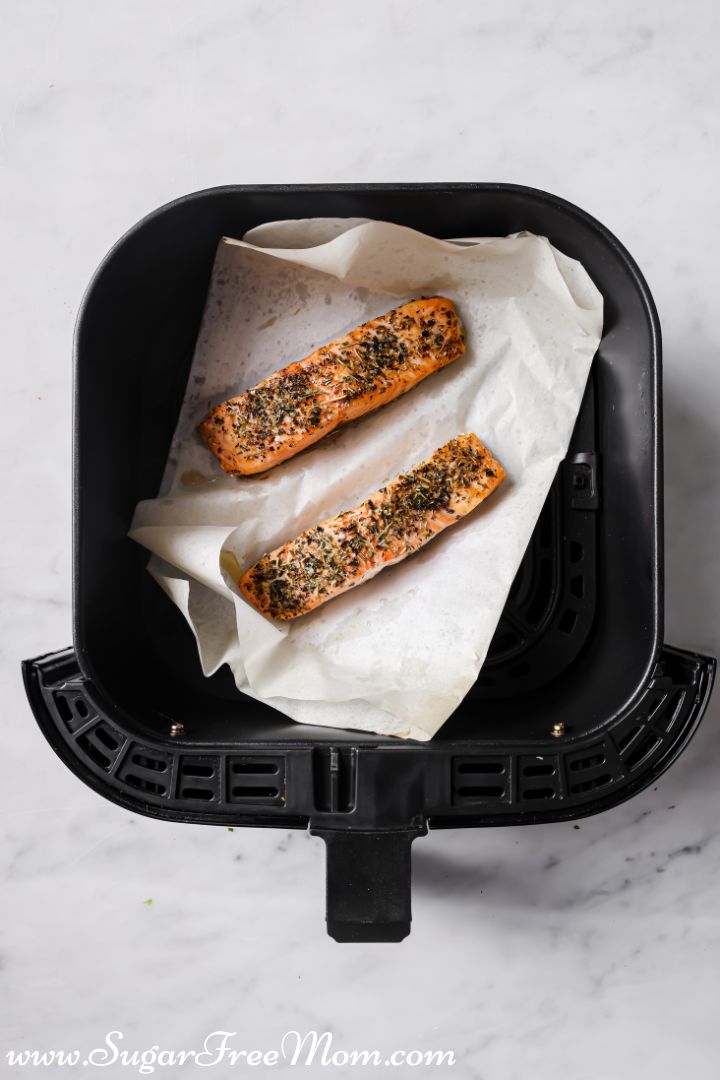 How to Make a Keto Salmon Rice Bowl 
White rice is quite high in carbs, so it's not a good option if you're following a low carb diet or keto diet.
But you can use the following low carb rice options to make a salmon Caesar Rice Bowl instead of a salad if you prefer!
Cauliflower Rice
Palmini rice
Shirataki Rice
How to Make Ahead
For easy meal prep, prepare salmon fillets, eggs and dressing and store in the fridge for 3 days, then just make the salad fresh when you are ready to enjoy.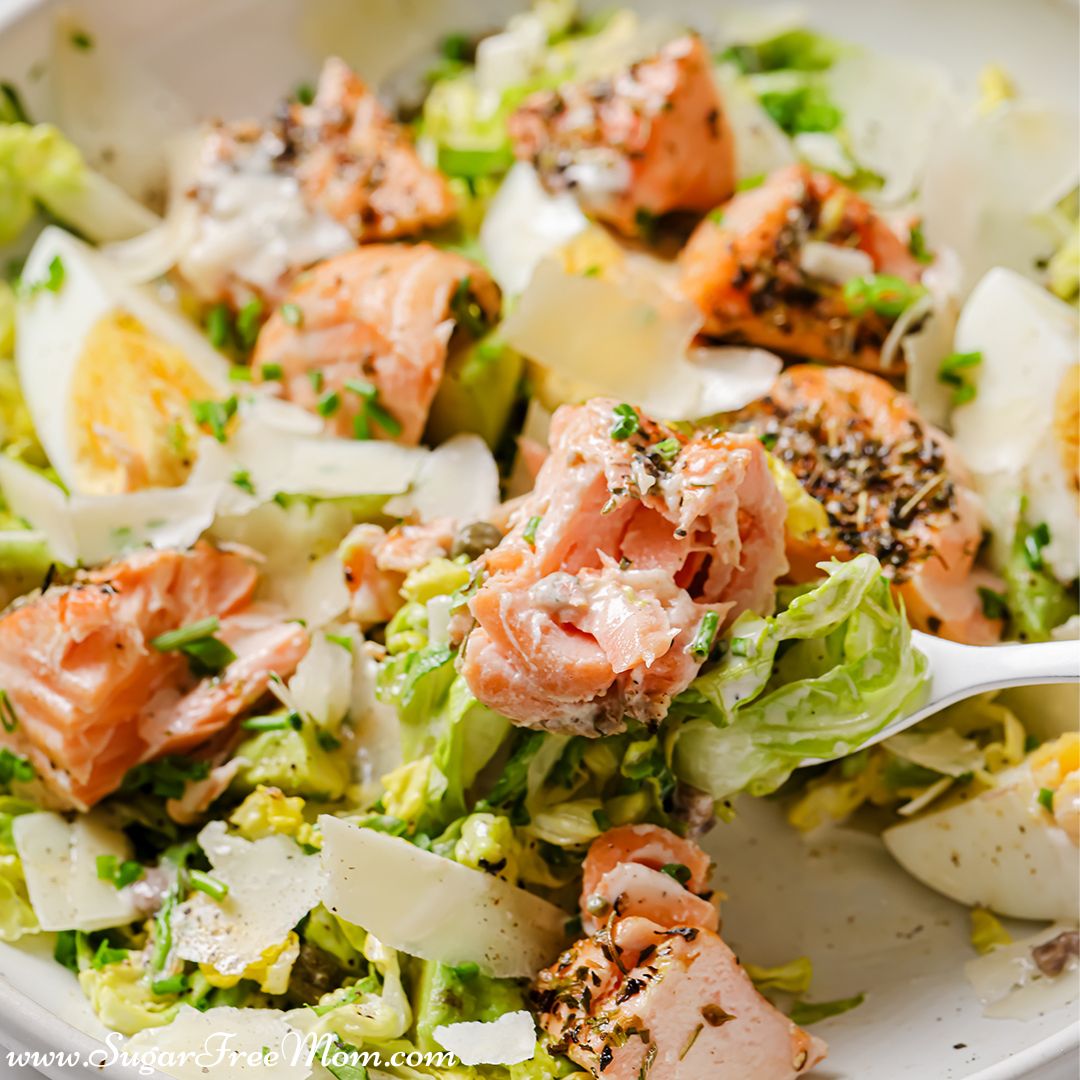 How to Store
Store prepared salad in an airtight container for 1 day in the fridge or follow make ahead instructions above. 
More Salmon Recipes
Air Fryer Salmon
Salmon Nuggets
Smoked Salmon Fat Bombs
Smoked Salmon Stuffed Peppers
Low Carb Keto Salmon Caesar Avocado Salad Recipe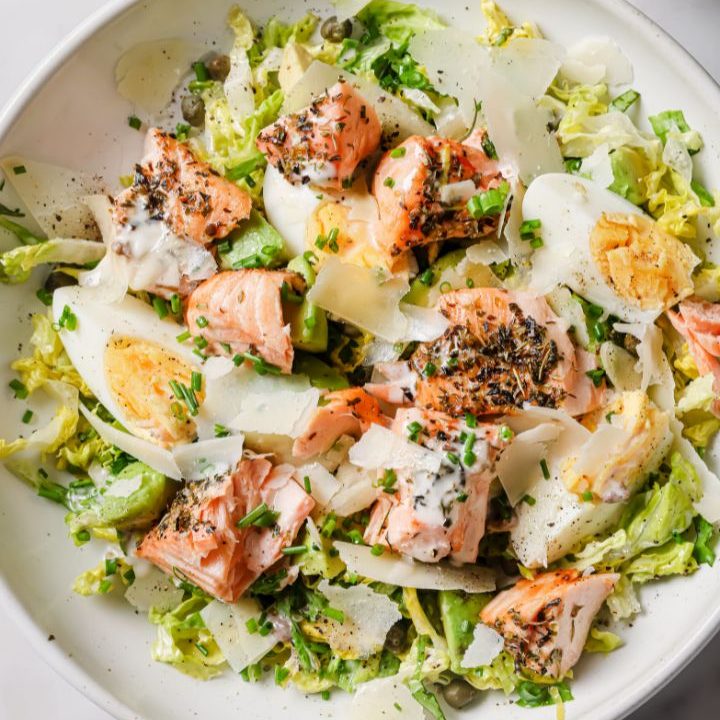 Print
Low Carb Keto Salmon Caesar Salad Recipe
If you're looking for a lighter dinner or lunch option that's packed with flavor, high in protein, rich in healthy fats and low carb, this Low Carb Salmon Caesar Salad is a must make.
Servings 2 servings
Calories 716kcal
Author Jo Harding
Ingredients
SALMON
12

ounce

salmon filets

(6 oz per filet)

2

teaspoon

olive oil

¼

teaspoon

salt

¼

teaspoon

pepper

1

teaspoon

Italian herbs

dried (or oregano)
SALAD
3

cups

romaine lettuce

chopped

4

ounces

avocado

cubed

1

tablespoon

capers

mini or chopped

2

large

eggs

hardboiled, quartered

25

grams

parmesan

shaved

1

tablespoon

chives

chopped

Optional: My Keto Bread options above for croutons
Instructions
SALMON
Preheat the air fryer to 400°F.

Rub each fillet with olive oil, then season salmon with salt, pepper and Italian herbs or oregano. Place the salmon on a sheet of parchment paper, skin side down, and then into the air fryer and cook for 7-9 minutes, depending on this thickness of the salmon. Times may vary depending on the brand of your air fryer.

When cooked, remove the skin and flake into chunks. Option to chop the skin up too! A favorite. You can even pop the skin back in the air fryer for 1 – 2 mins until super crisp then cut it up!
ASSEMBLY
Add lettuce, avocado and capers to a large bowl, toss to combine with dressing. If using keto croutons, add those as well. Plate salad and top with eggs, parmesan, chives and salmon.
Nutrition
Serving: 1serving | Calories: 716kcal | Carbohydrates: 10g | Protein: 47g | Fat: 56g | Saturated Fat: 9g | Polyunsaturated Fat: 6g | Monounsaturated Fat: 9g | Trans Fat: 0.02g | Cholesterol: 319mg | Sodium: 1006mg | Potassium: 1134mg | Fiber: 2g | Sugar: 1g | Vitamin A: 6668IU | Vitamin C: 8mg | Calcium: 245mg | Iron: 4mg