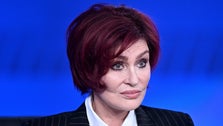 Sharon Osbourne has joined the ranks of celebrities sounding off on the controversial use of Ozempic for weight loss.
The television personality and wife of rock singer Ozzy Osbourne confirmed this week that she'd dropped more than 40 pounds after using the injectable drug, a diabetes treatment that manages blood sugar levels. However, she now feels "it's just time to stop."
"I didn't actually want to go this thin, but it just happened," she told British TV host Piers Morgan in a Wednesday appearance on his talk show with her family. "I'll probably put it all on again soon!"
Osbourne also noted that her husband had been "having at go" at her new appearance:
"He says, 'I look like [former first lady Nancy] Reagan.' He calls me Nancy Reagan all the time!"
Like many wellness trends, Ozempic has sparked major debate among medical professionals and beyond. Skyrocketing demand for the insulin drug as a weight loss aid has reportedly led to a global shortage, meaning that many patients with Type 2 diabetes are unable to access it.
In Hollywood, many have been more divided on its non-diabetes-related use.
"If I'm not careful with my intake of types of foods, I am more susceptible to getting diabetes," Raven-Symoné, who says pre-diabetes and diabetes run in her family, told E! News in July. "So, I think it's very important we understand certain medications are made for certain people and to not take that away just for glamazon purposes."
Others, like Chelsea Handler and Amy Schumer, have acknowledged using Ozempic but stressed the drug's unpleasant side effects.
"I was one of those people that felt so sick and couldn't play with my son," Schumer told host Andy Cohen while appearing on Bravo's "Watch What Happens Live" in June. "I was so skinny, and he's throwing a ball at me, and [I couldn't]."
Wednesday's "Piers Morgan Uncensored" appearance wasn't Osbourne's first time confirming her use of Ozempic. Earlier this month, she shrugged off the implication that she should be ashamed at taking it, telling E! News: "Whatever you choose is up to you."
"It's not a dirty little secret when you've taken something to help you lose weight, which is perfectly fine," she explained. "We don't have to bullshit."
Osbourne took a more cautious approach in her "Piers Morgan Uncensored" appearance Wednesday, pointing out the side effects she experienced and noting that using Ozempic should only be done in moderation.
"I was about two-three weeks where I felt nauseous the whole time," she said. "You get very thirsty, and you don't eat. That's why I say you have to keep this stuff away from younger people. They will go berserk on it, and it's not right."
Watch the full "Piers Morgan Uncensored" interview below.