A Sugar Free, Dairy free, Low Carb Copycat Starbucks Pumpkin Spice Keto Frappuccino made without added sugar and low carb! Just 6 grams of net carbs.
Starbucks Pumpkin Spice Frappuccino or Latte 
I just can't help it. When I see a fabulous coffee drink at a popular coffee shop I NEED to recreate a healthier version. It's a challenge and a mission I'm on.
Make a keto recipe, low in grams of carbs with simple ingredients that everyone can make at home with no added sugars and still LOVE them just as much, if not more!
If you've been to a Starbuck's local coffee shop then you know exactly what I'm talking about. They make some gorgeous looking frappes filled with cold coffee, milk, sugar, whipped cream as well as delicious chai tea lattes, and for this fall season or pumpkin season, pumpkin pie spice flavors of course.
I've never found any local coffee shops that include low-carb coffee drinks specifically, you just have to order it without all the extra add ins that always include too much sugar for anyone on a low-carb diet. 
They all look amazing, but I have never tried one nor will I ever try one. But I also never want to feel deprived on my keto diet. I just make sure to include occasional indulgent recipes that don't spike my blood sugar with healthy fats and natural ingredients .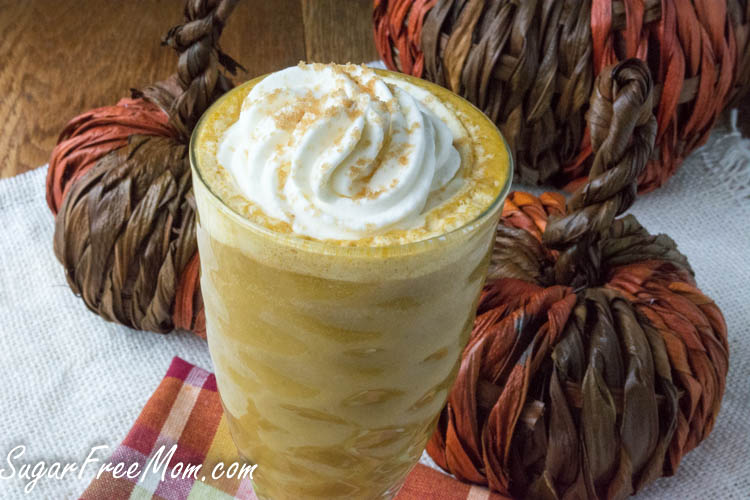 This keto coffee frappuccino recipe needs just 6 ingredients, well, 7, if you count ice!
My low carb version of this classic pumpkin spice frappuccino recipe uses real pumpkin, unlike the Starbucks pumpkin spice frappuccino which doesn't include it.
It was a pretty simple keto makeover recipe to create at home and an easy recipe too, just throwing it all in a blender. 
It has equal parts of cold brew black coffee and milk of choice.
I chose unsweetened almond milk, but you could also use unsweetened coconut milk, whole milk, heavy whipping cream or even Half & Half if you prefer. 
If you really want to make this keto coffee drink, like a dessert, the heavy cream instead of milk is the way to go, topped with sugar free whipped cream. 
​Make it a Low Carb Pumpkin Spice Latte, simple skip the coffee ice cubes and keep the coffee hot instead!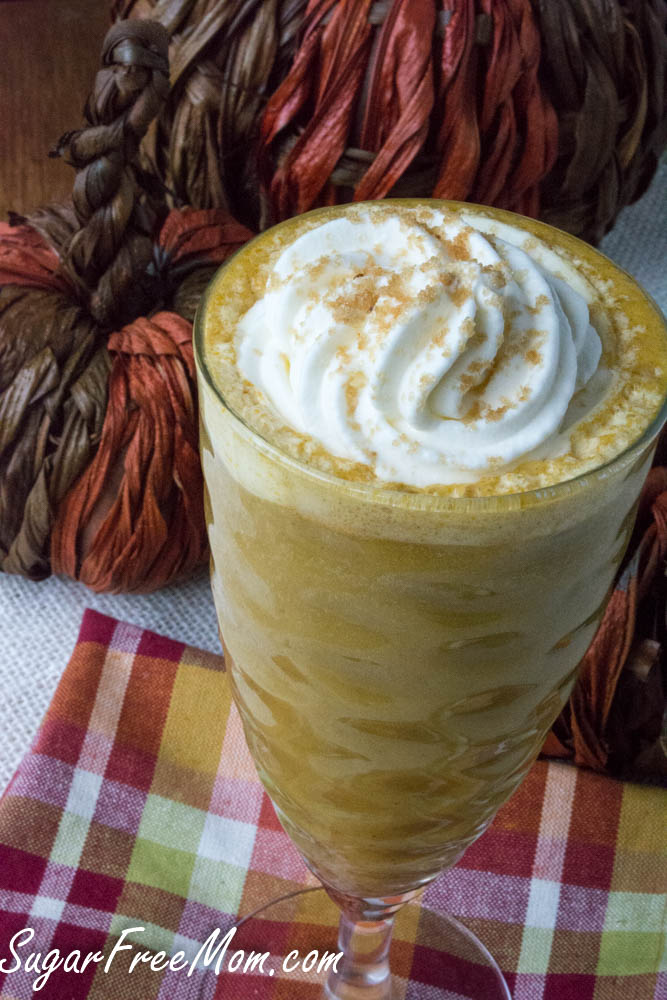 Low Carb Sweetener Options
I chose vanilla liquid stevia, but you can really use whatever keto sweetener you prefer, just add a little, taste and adjust.
Here's my Natural Sweetener Guide & Conversion chart if you want to swap out the sweetener I used. 
I guess it's because I never want to feel deprived that motivates me to make keto friendly recipes for myself and my family.
I never want to feel that being sugar free on a low carb diet is about deprivation. It's never been and never will be for me.
I believe it is possible to live a sustainable sugar free life and I've been doing it for over 11 years now, proving it, so to speak. Walking the walk, not just talking the talk.
While this keto pumpkin spice frappuccino recipe was a reader request, I'm so glad she asked because it is a delightfully sin-less feeling when sipping on a iced coffee like this, without guilt!
Why I Don't use Sugar-Free Syrup
Often I've found in my sugar free journey, that most sugar free syrups contain artificial sweeteners and flavors and cause me to crave more sugar.
I know you can find sugar free syrups sweetened with stevia or other natural sugar free sweeteners but I just prefer not to purchase them as I can make something just as good at home with my sweeteners of choice on hand. 
​Can I just use Instant coffee?
You could use instant coffee if you prefer, i don't think it's very tasty, but it can be used.
I prefer to use my espresso machine and make an Americano and for this recipe I just poured the hot coffee in ice cube trays so that I wouldn't need to add ice for this homemade pumpkin spice latte. 
More Low Carb Recipes with Pumpkin Pie Spice Flavors
This warm pumpkin spice drink is a delicious keto pumpkin spice latte recipe that will fulfill and satisfy your pumpkin flavor need!
Keto Pumpkin Pie
Homemade Pumpkin Spice
Keto Pumpkin Waffles
Keto Pumpkin Oatmeal Cookies
Low-Carb Pumpkin Spice Frappe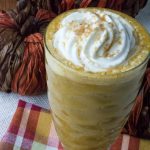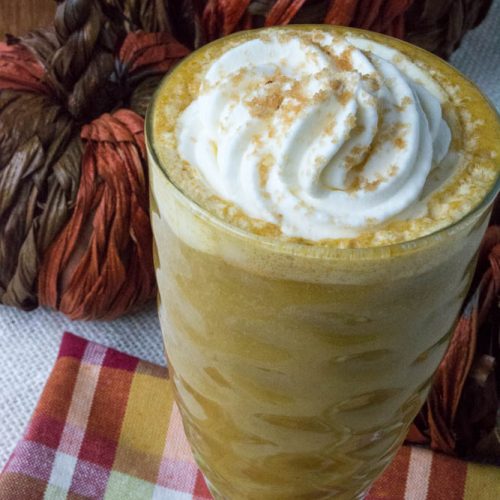 Print
Low Carb Keto Copycat Starbucks Pumpkin Spice Frappuccino
Servings 1 serving
Calories 64kcal
Author Brenda Bennett/ Sugar Free Mom
Ingredients
1

cup

unsweetened almond milk

or coconut cream or see more options above

1

cup

coffee ice cubes

⅓

cup

pumpkin puree

½

teaspoon

pumpkin pie spice

½

teaspoon

vanilla extract

½

teaspoon

vanilla liquid stevia

1

cup

ice

optional only if using a cup of hot coffee

Optional add ins: Collagen peptides, MCT oil, or whey protein powder
Instructions
Pour all ingredients into a blender. Blend on high until smooth. Taste and adjust stevia, and pumpkin pie spice, as needed. Top with sugar-free whipped cream, and a sprinkle of cinnamon, if desired. Enjoy immediately!
Notes
Net Carbs: 6g
This recipe was first published in October 2015 and updated with video in October 2019. 
Nutrition
Serving: 1serving | Calories: 64kcal | Carbohydrates: 8g | Protein: 1g | Fat: 2g | Saturated Fat: 1g | Sodium: 10mg | Potassium: 284mg | Fiber: 2g | Sugar: 3g | Vitamin A: 12710IU | Vitamin C: 3mg | Calcium: 21mg | Iron: 1mg