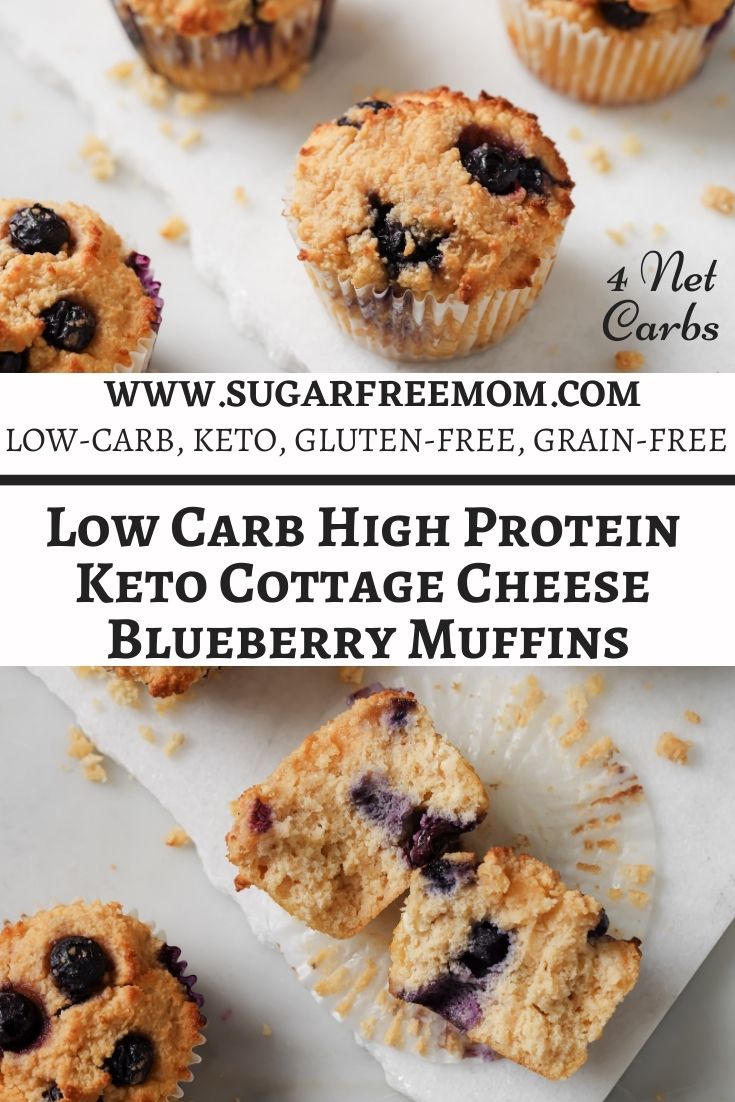 These Low Carb Keto Cottage Cheese Breakfast Muffins are a great way to start the day. Adding cottage cheese gives them a wonderful tang that complements the buttery batter with the sweet burst of blueberries. It also helps increase the protein content of these easy keto breakfast muffins. Just 5 g net carbs for a quick breakfast on the go!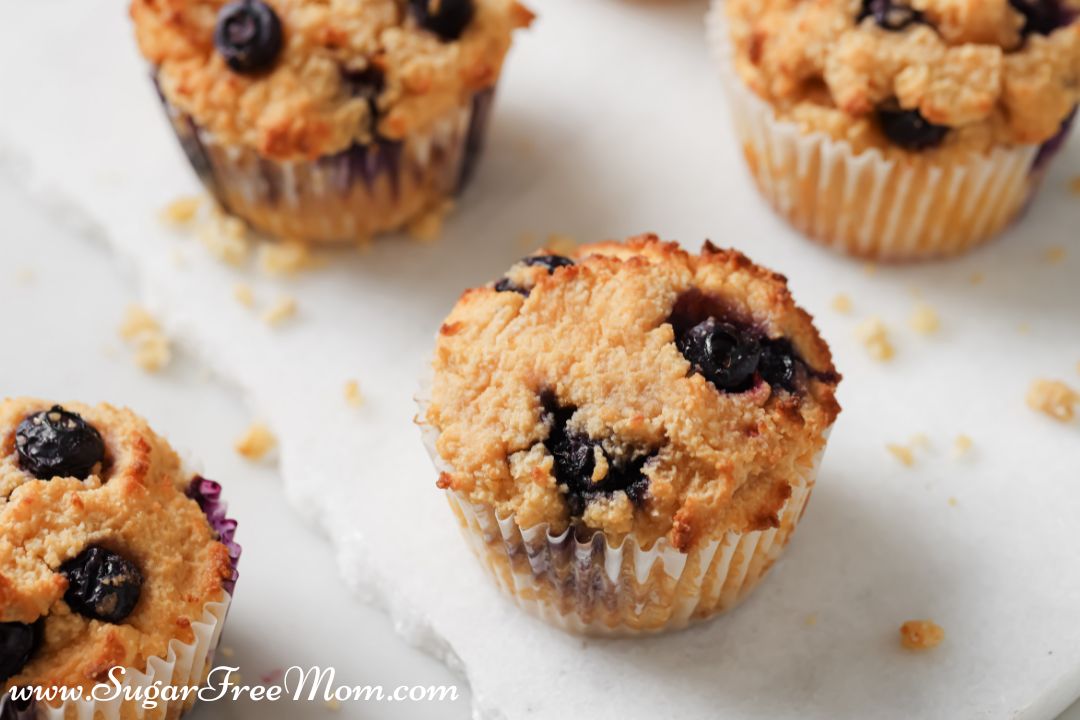 Cottage Cheese Muffins
Cottage cheese is getting all the fame these days all over social media, but as a recipe developer on a low-carb diet and then keto diet, and a nutritional therapy practitioner, I've known about the powerful protein punch of cottage cheese.  
I've been creating cottage cheese recipes for years in savory and sweet low carb recipes, like my Low Carb Spinach pie and my high-protein snack chocolate smoothie. 
​This low carb muffin recipe includes whole eggs and cottage cheese to increase the protein per serving! These delicious muffins are perfect to pop into your lunchbox for tasty snacks anytime of the day. 
​Super simple ingredients for this easy recipe too! Complete recipe, full instructions, nutritional information and complete printable recipe are located at the very bottom of this blog post in the recipe card.
​Eggs, cottage cheese, almond flour but nut free option is below, coconut flour, butter, vanilla extract, baking powder, your favorite low carb sweetener, unsweetened almond milk or heavy cream, fresh berries.
​These low carb muffins can be made ahead on the weekend for easy breakfasts on busy weekday mornings so the whole family can grab one and go!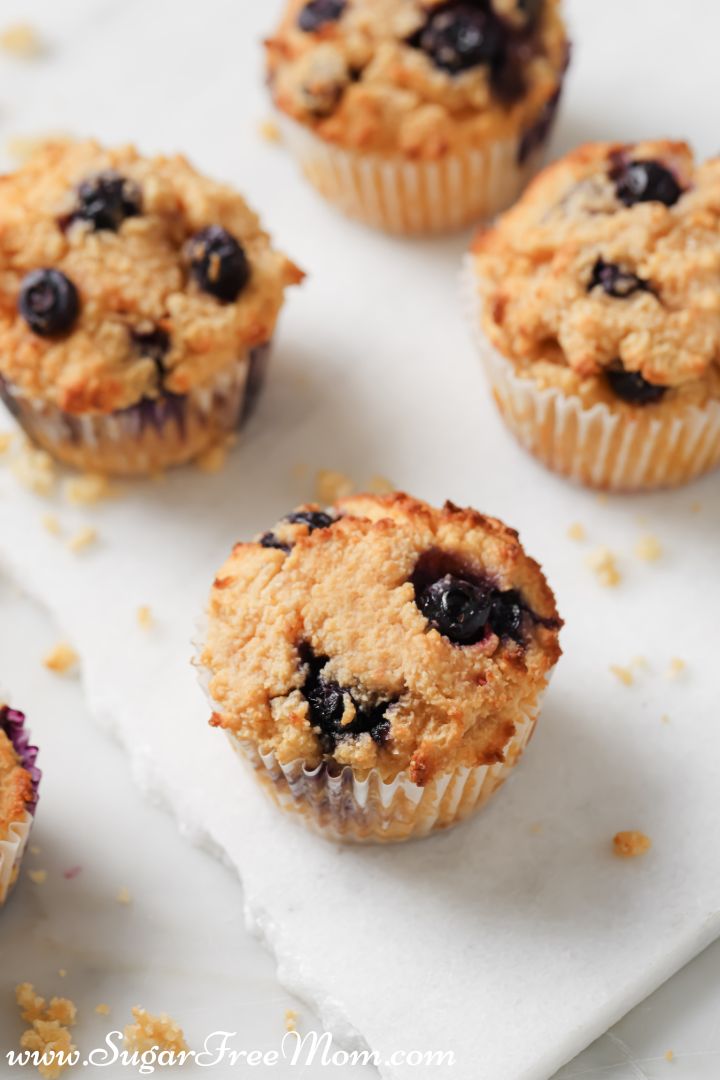 Store-Bought Cottage Cheese Options
The first step for any baked keto low-carb breakfast or sweet treat is choosing your cottage cheese.
Whole milk full-fat cottage cheese is best if you truly want a soft texture, but low fat will work, if you prefer. 
I do not recommend fat-free cottage cheese as often it includes many unhealthy ingredients and added sugars to make it taste good. 
The specific brands I like are the Green Valley Lactose Free Cottage cheese since my daughter and I have a lactose intolerance, this works better for us without stomach issues.  
The Good Culture brand is also great if you don't have a lactose intolerance.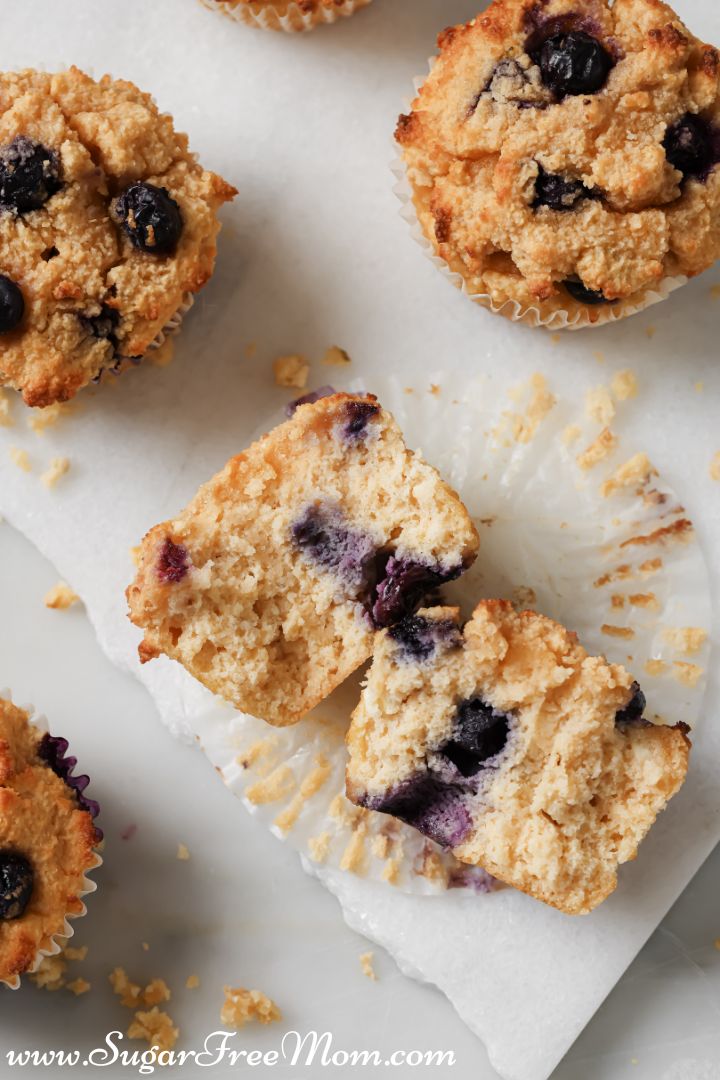 Can I change the low carb Sweetener used?
​Low Carb sweeteners are really a personal preference when it comes to low carb baking.
We all won't agree on the best one for us and our taste buds so you have a great opportunity to experiment!
Trying different sweeteners as well as trying a different flour for baking can make a huge difference in how much you like a particular recipe. 
Of course, you can swap out any sweetener in any of my recipes using my Natural Sugar Free Sweetener Guide & Conversion Chart.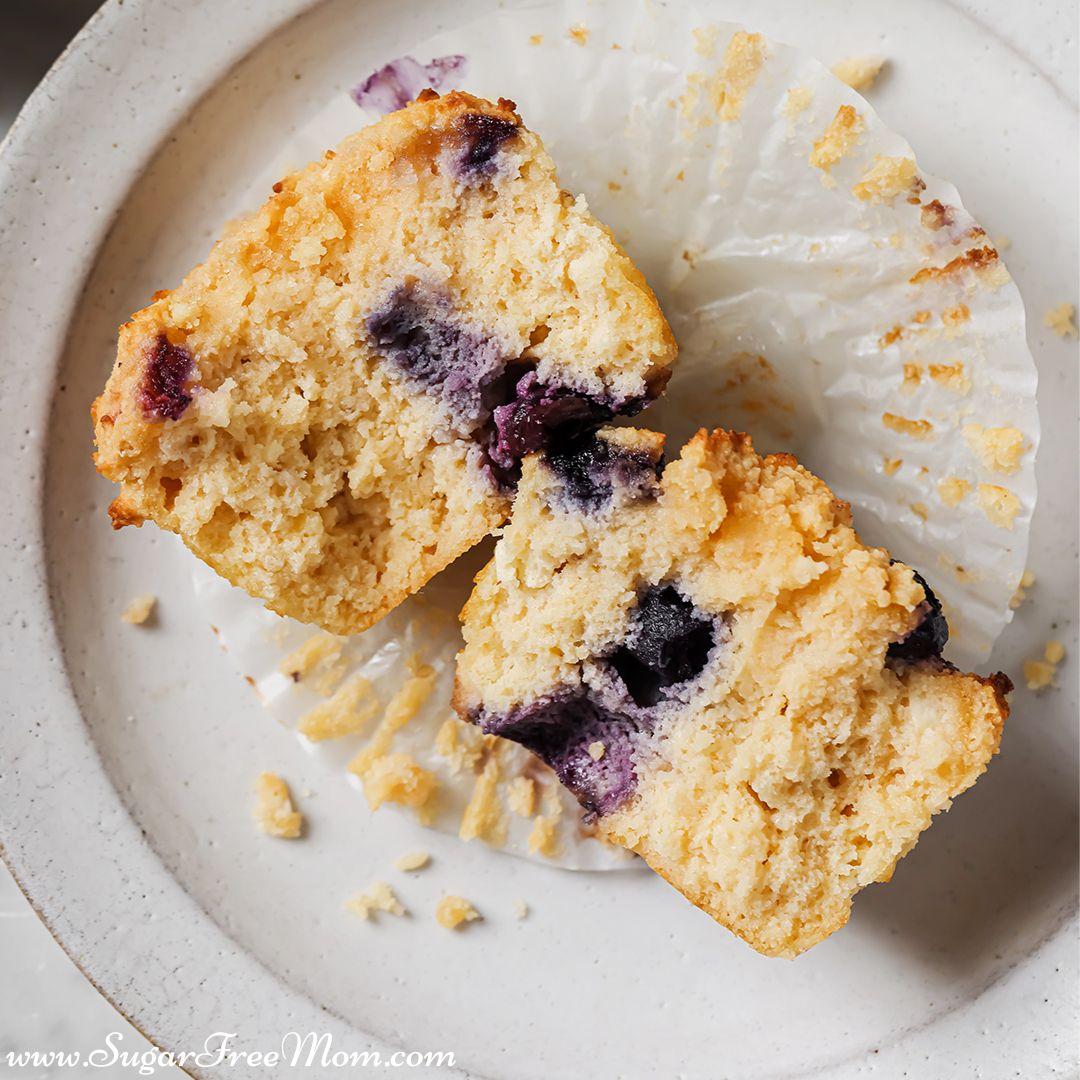 Can I Swap the Cottage Cheese?
If you're just not a fan of cottage cheese, you can swap it out with ricotta cheese. 
​Can I make these low-carb muffins nut free?
​Yes, it's very easy to make these low carb muffins nut free. Simply swap out the almond flour for sunflower seed flour using the same amount will yield the same great texture and results!
​Can I make this healthy breakfast dairy free?
Yes you can make these keto muffins dairy free by swapping out the butter for olive oil and replacing the cottage cheese with coconut yogurt or almond milk yogurt.
More High-Protein Breakfast Recipes
​Pepperoni Pizza Keto Egg Muffins
Muffin Bites
Keto Chocolate Scrambled Egg Pudding
Bell Pepper Eggs
Sausage Breakfast Egg Muffins
Zucchini Egg Cups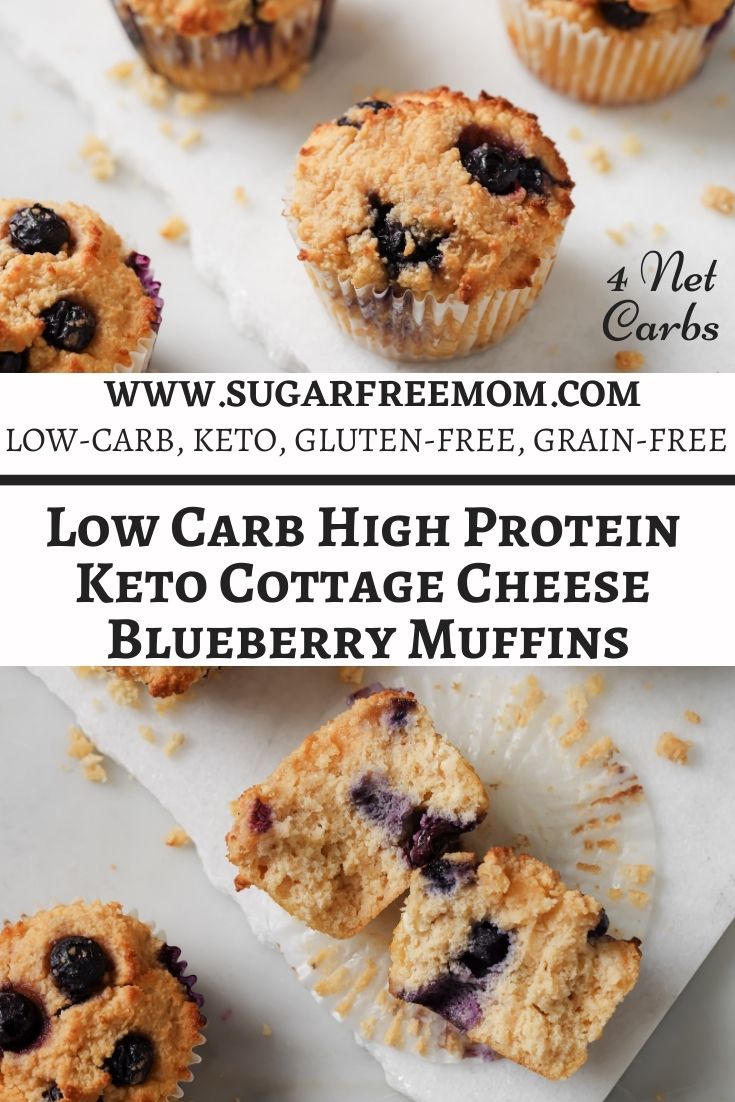 Low Carb Keto Cottage Cheese Muffin Recipe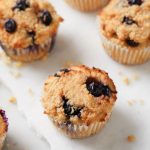 Print
Low Carb High Protein Keto Cottage Cheese Blueberry Muffins
These Low Carb High Protein Keto Cottage Cheese Blueberry Muffins are a great way to start the day. They're also perfect to pop into your lunchbox for a healthy sweet Keto pick me up. Adding cottage cheese gives them a wonderful tang that complements the buttery batter and sweet burst of blueberries. It also helps burst the high protein content of these muffins.
Servings 6 muffins
Calories 279kcal
Author Jo Harding
Instructions
Preheat the oven to 350F / 180C and line a muffin pan with paper liners. Spray the muffin cups with non-stick spray for best results or use a silicone muffin pan.

Whisk the eggs with an electric mixer in a large bowl until pale and fluffy – about 2 minutes.

Add the cottage cheese, melted butter and vanilla extract and whisk until combined.

In a clean large mixing bowl, stir together the dry ingredients (almond flour, coconut flour, baking powder and Swerve). Add the dry ingredients to the wet egg mixture and blend until smooth.

Loosen the batter with almond milk if really firm – this depends on your cottage cheese brand. I added 2 tablespoon almond milk.

Fold in fresh berries with a spatula. Fill the muffin batter into the paper cups in muffin tin and smooth the tops. Optional: add a few extra fresh blueberries on top.

Bake for 25 – 30 minutes until golden brown on top and you can insert and remove a toothpick with just a few crumbs sticking. Try not to over bake as they will firm up once cooled.

Storage: Airtight container for 2 days in the fridge or freezer for 2 months.
Nutrition
Serving: 1muffin | Calories: 279kcal | Carbohydrates: 9g | Protein: 10g | Fat: 23g | Saturated Fat: 7g | Polyunsaturated Fat: 1g | Monounsaturated Fat: 3g | Trans Fat: 0.3g | Cholesterol: 115mg | Sodium: 65mg | Potassium: 122mg | Fiber: 5g | Sugar: 2g | Vitamin A: 388IU | Vitamin C: 1mg | Calcium: 104mg | Iron: 1mg