These fluffy low carb Sugar-Free healthy Pumpkin Pancakes are a perfect fall breakfast that even your teen can make! These low carb pancakes are keto, gluten free and have no added sugar!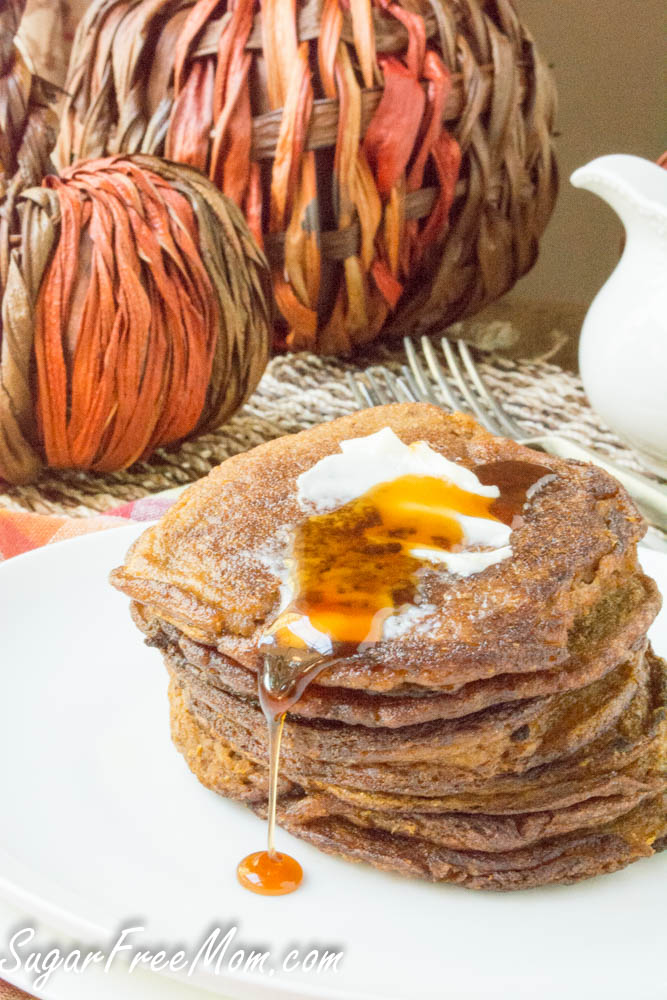 Low Carb Pumpkin Pancakes
​Whether you're following a low carb diet or keto diet, these low carb pumpkin pancakes can fit easily into your daily macros!
These paleo pumpkin pancakes are our favorite pancake recipe for anytime of the year but especially in the fall!
Basic Ingredients
Exact measurements, nutrition info and printable recipe card are below at the bottom of this blog post.
Room temperature Eggs
Pumpkin Puree
​Coconut milk or Almond Milk
Vanilla Extract
Pumpkin Pie Spice- Try our homemade easy pumpkin spice recipe!
Cinnamon
Baking soda
pinch of salt
Low Carb Sweetener- We use pumpkin liquid stevia, but vanilla stevia or liquid Monk fruit could also be used. 
​Is Pumpkin Keto?
Yes, real pumpkin puree is keto friendly. Do not use pumpkin pie filling which is loaded with sugar.
1 cup of pumpkin puree has 8 net carbs and in this recipe for our homemade pancakes, we are making 10 pancakes using just a ½ cup of pumpkin puree.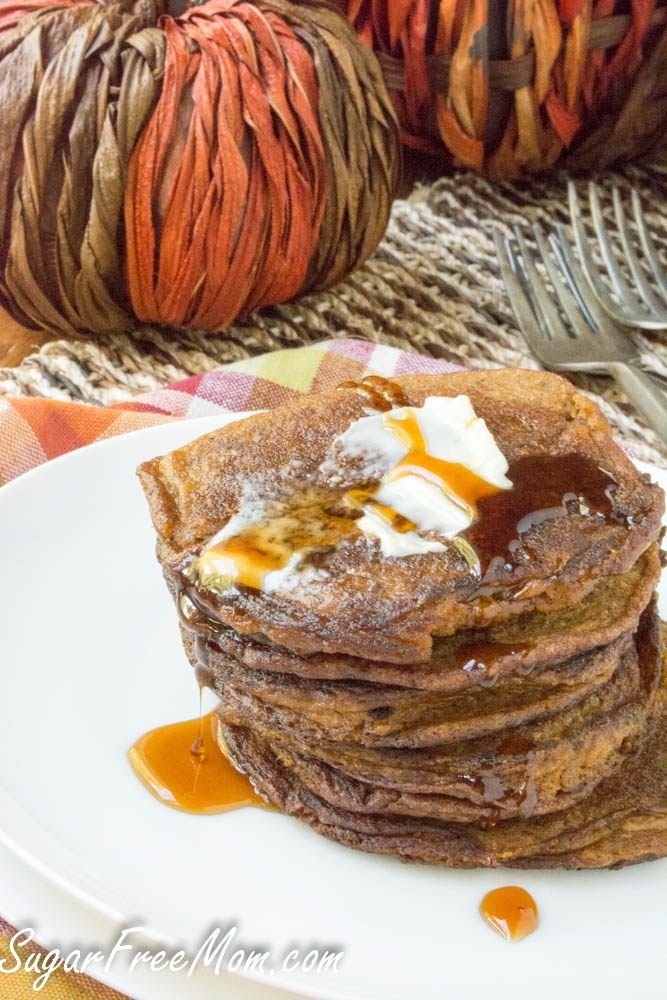 How Many Carbs in a Pumpkin Spice Pancake
​Traditional pumpkin pancakes are made with all purpose flour or regular flour or white whole wheat flour and include white refined sugar or brown sugar. 
According to Cronometer, the total carbs for regular pancakes from Trader Joes using ⅓ cup mix would be 36 total carbs with 170 calories!
Our low carb pumpkin pancake recipe has just just 2 grams of net carbs for one pancake and 4 grams of protein and 112 calories.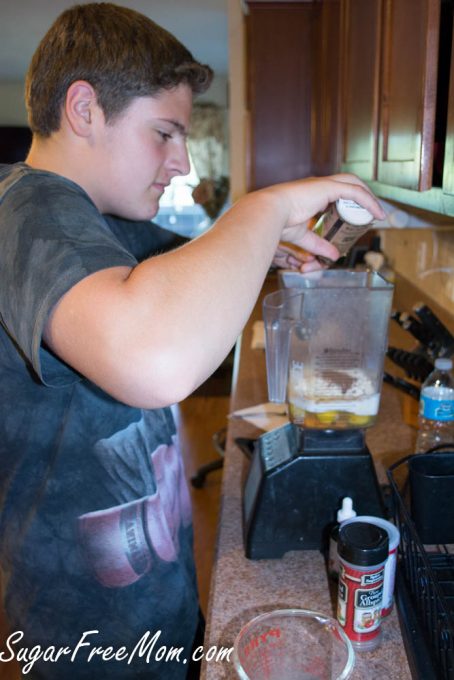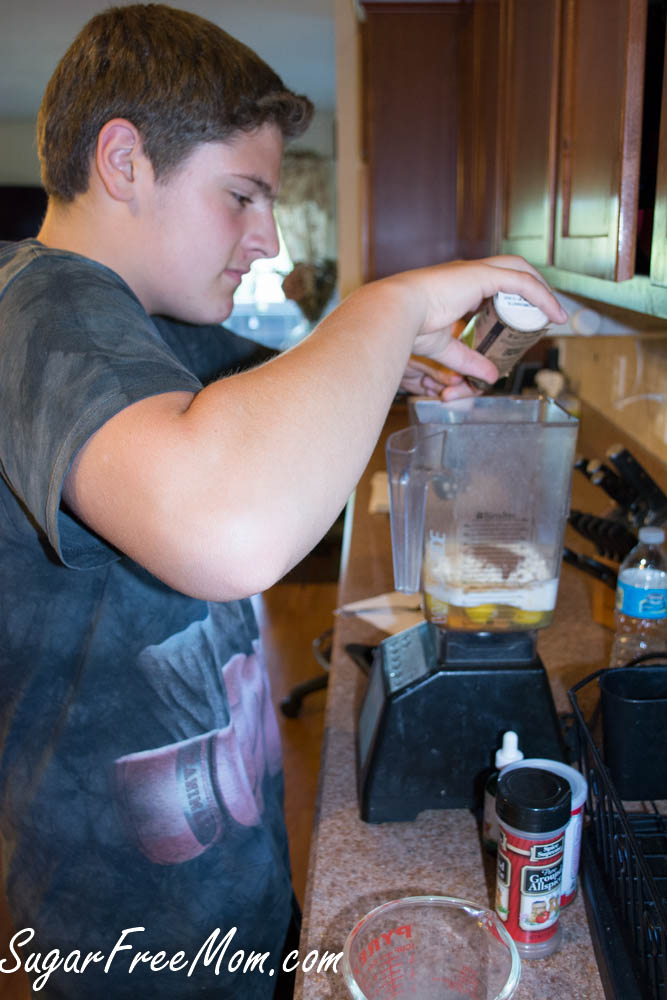 Healthy Pancakes
The theme on my mind was to get my kids to be more independent in the kitchen and it has truly and wonderfully made such a difference in all of our lives!
Not only did we create new and delicious low carb recipes together, that were all geared for my kids ages.
The little man who is just 9, has made some fabulous no heat cooking recipes with me and my daughter just 12, has also made some wonderful sugar free treats and lunchbox snacks!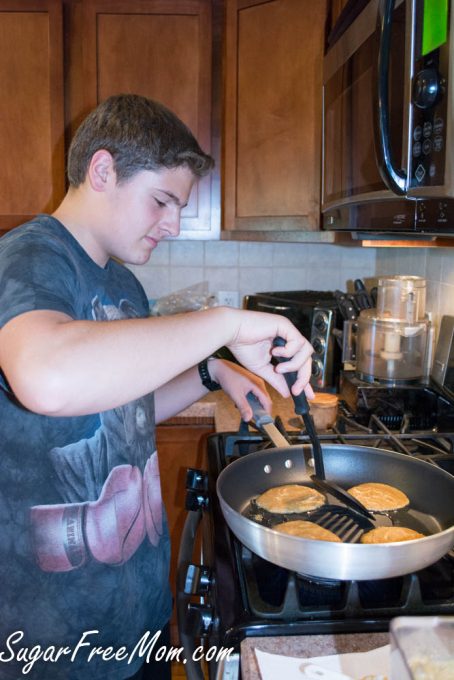 Easy Keto Pumpkin Pancakes
It's now Pumpkin season!
Today's fluffy pancakes recipe was a goal of mine to get my reluctant 15 year old to cook at the stove. I knew he could do it, but he never wants to. He'd just rather me do all the cooking for him and that was not going to work for me anymore!
I asked him, "How do you know when to flip?" He said, "Flip it when it's good".
Yep. That is a 15 year old. I gave him some tips, but he did well on his own.
Although he really didn't want to participate in this adventure this year, I think he's glad I pushed him into cooking more on his own. Having confidence is the kitchen is an important skill I want my kids to learn.
He'll be off to college in just 3 years so this makes me happy he can actually fend for himself rather than rely on others or have to eat unhealthy options for convenience.
These pumpkin pancakes came out fantastic! Soft and amazingly almond flour free! Not a lot of coconut flavor if that's a concern for you.
The pumpkin flavor is the star in these gluten-free pumpkin pancakes!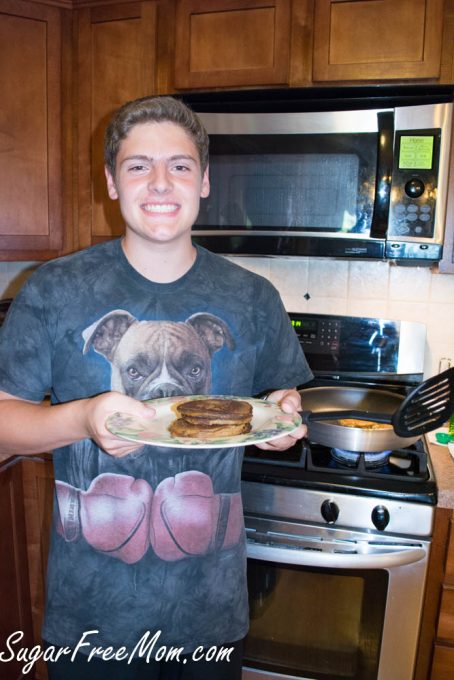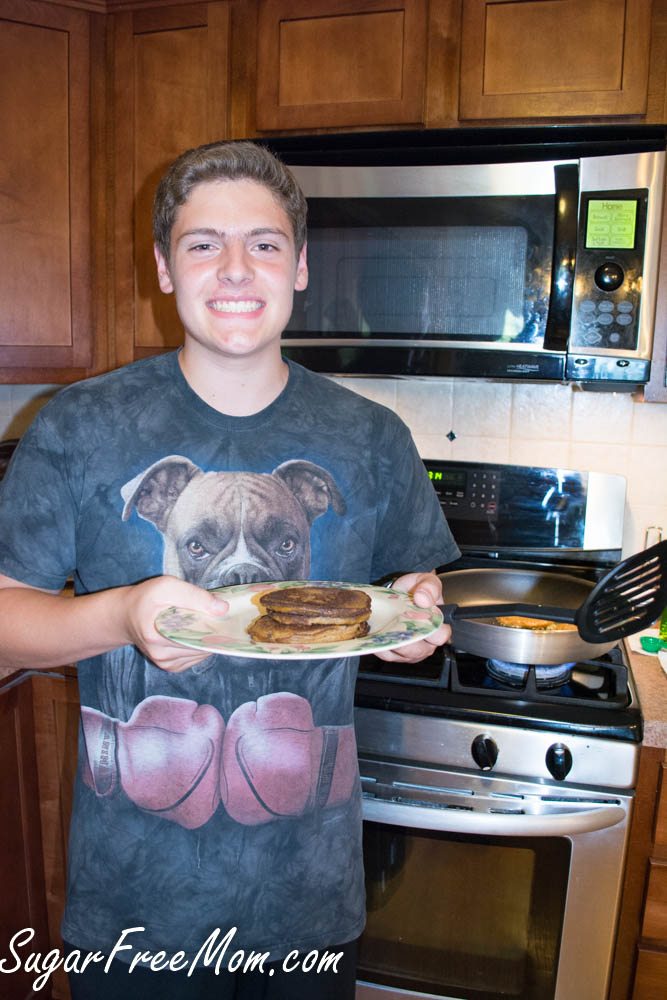 Keto Pancake Favorite Toppings
Lakanto Sugar Free Maple Syrup- this is our favorite sugar-free maple syrup substitute as it doesn't have an aftertaste.
ChocZero Sugar free syrup
Liquid Allulose 
Sugar Free Whipped Cream
Sugar-Free Chocolate Chips
Grass Fed Butter
​Can I use butter to fry the fluffy pumpkin pancakes?
It's not recommended to use butter to fry these low carb pancakes because they do take a bit of time to cook in the center as opposed to regular pancakes.
Butter tends to burn quickly and you'll end up with very dark golden brown pumpkin pancakes. For best results, use avocado oil or coconut oil. 
​Can I replace the Pumpkin Stevia?
Sure, you can use any low carb sweetener you like. Here's my Sweetener Guide & Conversion chart to help you decide how much to use in place of what I used.
I personally think the pumpkin stevia really enhances the pumpkin flavor of these pumpkin spice keto pancakes and there isn't an aftertaste. .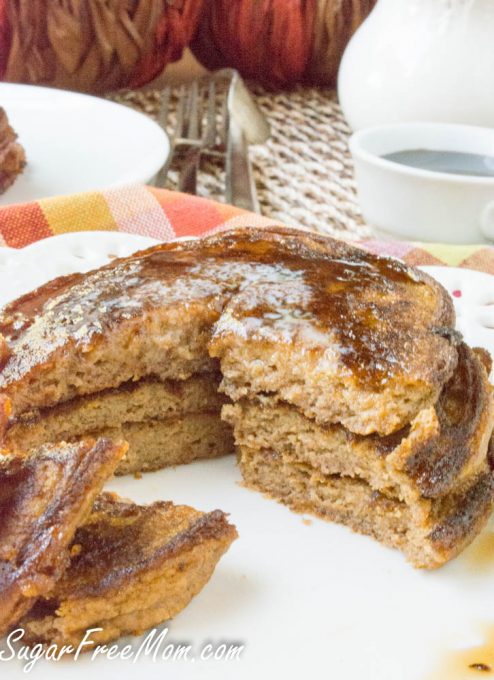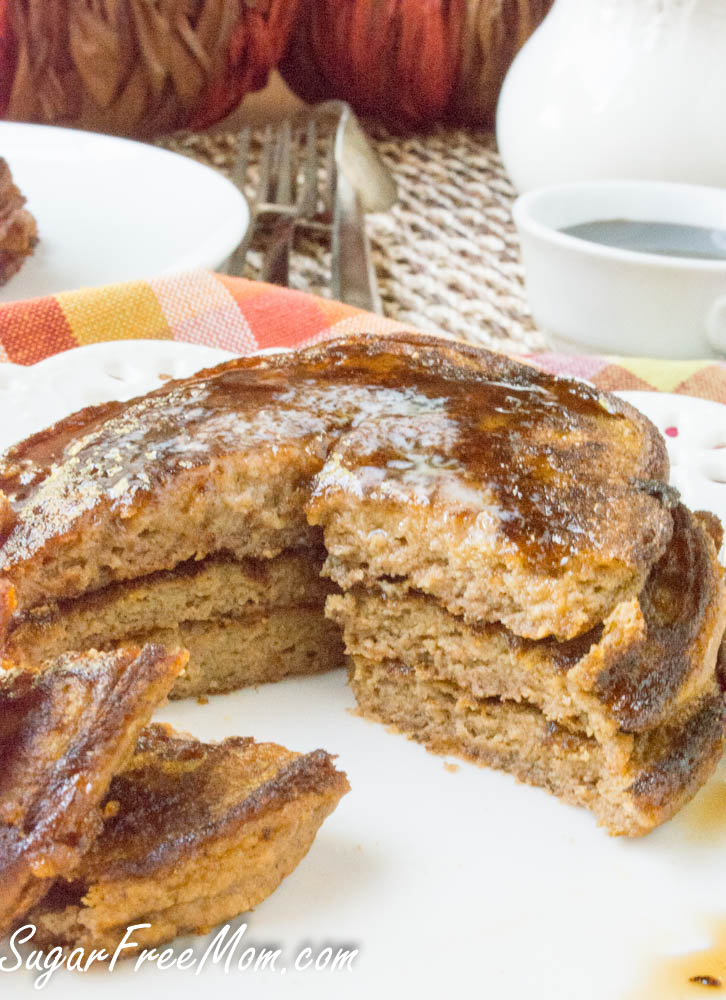 Leftover Canned Pumpkin?
Use up leftover canned pumpkin with any of these delicious pumpkin recipes:
Keto Pumpkin Frappuccino
Keto Pumpkin Cloud Bread
Keto Pumpkin Pie Cheesecake Mousse
Keto Pumpkin Custard
Keto Pumpkin Pie
Keto Pumpkin Cookies
Keto Pumpkin Muffins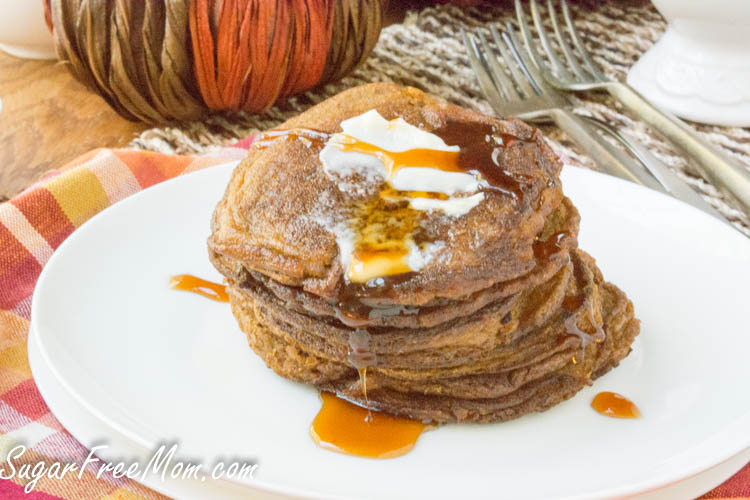 ​More Keto Pancake Recipes
Low Carb Keto Ricotta Pancakes
Sheet Pan Pancakes (No Flour Needed)
Keto Gingerbread Pancakes
This is the best pumpkin pancakes recipe and it was first posted in September of 2015!
Sugar Free Low-Carb Pumpkin Pancakes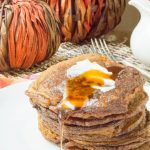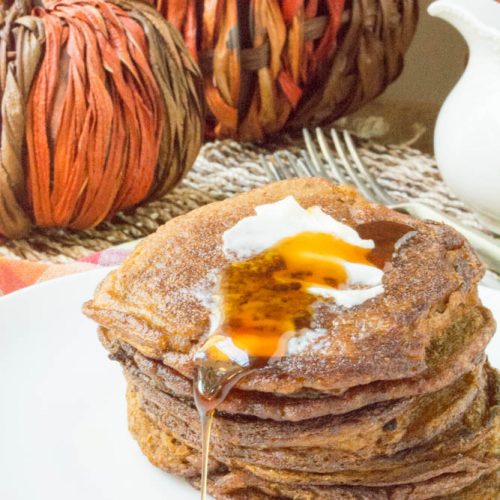 Print
Fluffy Low Carb Keto Sugar Free Pumpkin Pancakes
Servings 10 pancakes
Calories 112kcal
Author Brenda Bennett |Sugar Free Mom
Instructions
Blend all ingredients into a high powered blender or food processor and blend until smooth.

Heat 2 tablespoon avocado oil in a large skillet over medium heat.

Use ¼ cup measuring cup to fill pancake batter.

Make 5 pancakes in a single layer in pan.

Flip over once batter is bubbling around edges and center, about 5 minutes.

Cook an additional 5 minutes on this side.

Heat remaining 2 tablespoon oil and finish cooking another 5 pancakes.

Enjoy immediately topped with butter and choice of sugar free syrup.

Store leftover pancakes in an airtight container in the fridge for up to 5 days. Reheat in a toaster oven for 2-3 minutes or microwave. 
Notes
Net Carbs: 2 grams for 1 pancake
Nutrition info does not include oil for frying. 
Recipe first published in October 2015. 
Nutrition
Serving: 1pancake | Calories: 112kcal | Carbohydrates: 5g | Protein: 4g | Fat: 8g | Saturated Fat: 6g | Polyunsaturated Fat: 0.4g | Monounsaturated Fat: 1g | Trans Fat: 0.01g | Cholesterol: 65mg | Sodium: 197mg | Potassium: 117mg | Fiber: 3g | Sugar: 1g | Vitamin A: 2003IU | Vitamin C: 1mg | Calcium: 21mg | Iron: 1mg