This Healthy Keto Crustless Pumpkin Pie Custard is Sugar Free, Low Carb, Gluten Free, Grain Free and tastes like traditional pumpkin pie minus the sugar! Just 5 g net carbs!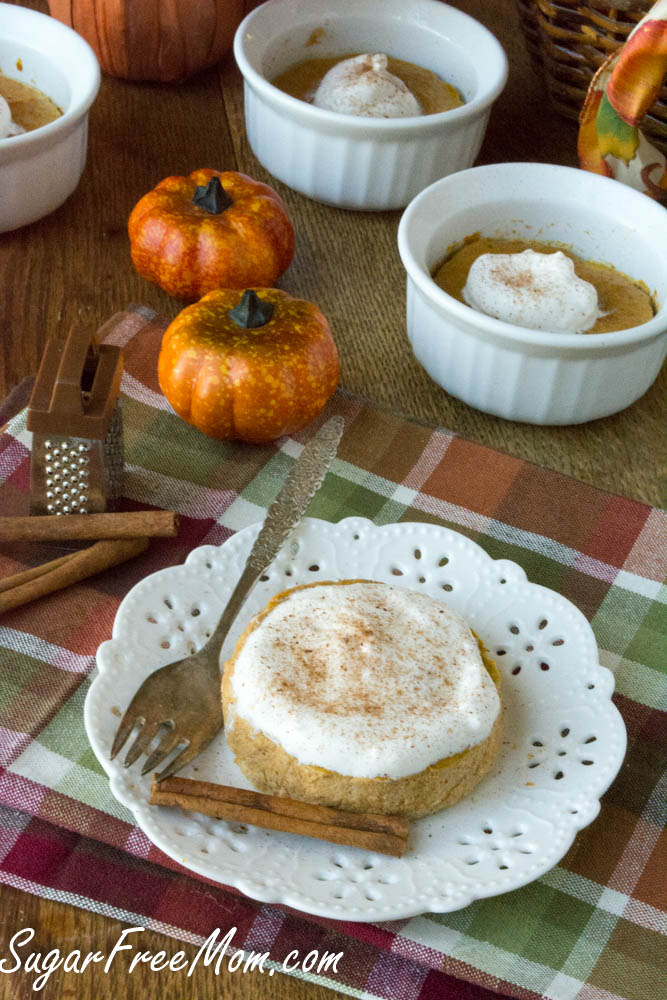 This easy sugar free pumpkin pie custard has all of the flavors and texture of a regular pumpkin pie without all the calories and crust from a traditional one!
This pumpkin custard recipe comes from adapting my low carb pumpkin pie recipe minus the coconut flour keto pie crust for even fewer carbs. 
I realize it's still only October but everyone is going crazy for Pumpkin recipes and it feels like the Holiday season will be here very soon! My Pumpkin Cheesecake Mousse went viral within days and I'm so grateful!
This very popular pumpkin recipe was originally posted in October of 2012 and has been a huge Pinterest recipe during every fall season, especially as a Thanksgiving dessert!
I gave it updated photos in October of 2015 and today I'm sharing this video with you to show how simple this recipe really is!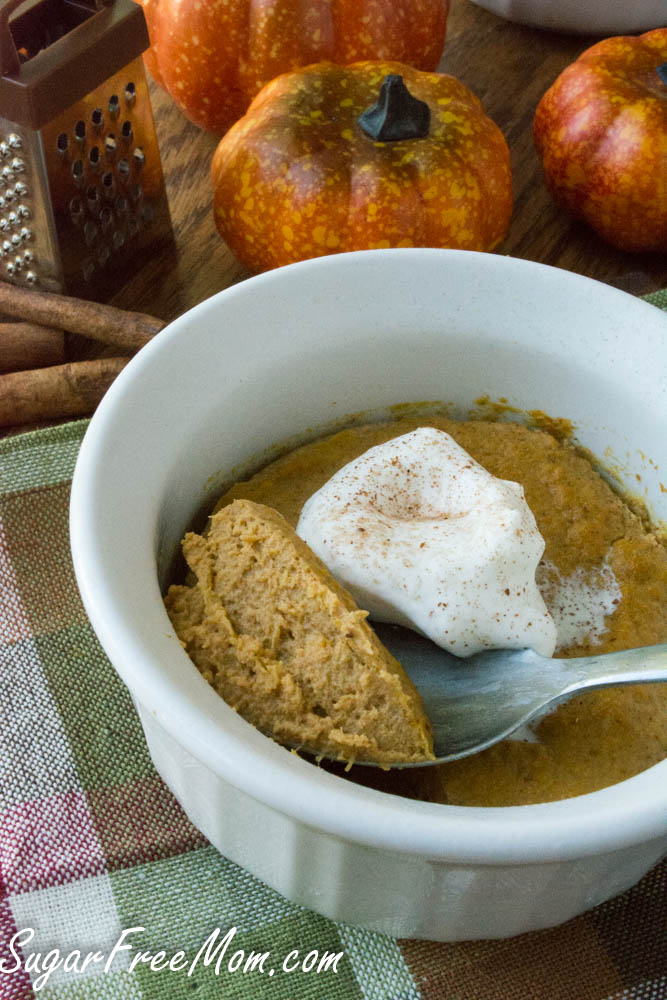 Is Pumpkin Keto?
Whether you make homemade pumpkin puree or purchase canned pure pumpkin puree, yes, pumpkin is keto friendly! 
1 cup of pumpkin puree has 8 net carbs and in this recipe for our homemade pumpkin pie custard, we are making 6 individual custards using just 15 ounces of canned pumpkin puree. 
Just make sure when buying canned pumpkin at your local grocery store, that the only main ingredients are pumpkin and maybe salt, that is all.
Do not purchase pumpkin pie filling which contains sugar, has 71 grams of carbs in 1 cup and will spike blood sugar. 
Our recipe for pumpkin custard needs just 7 ingredients and has just 7 total carbs!!
This perfect keto pumpkin pie custard is simple and an easy dessert for entertaining anyone on a keto diet or low carb diet. So delicious, even if you're not much of a pumpkin lover!
Currently in life we are packing for a move to a small little country setting in the woods. We will still be in my home state of Rhode Island, but the scenery from city to country will be remarkable!
The nearest store is about 20 minutes away. It's going to take me some time to get used to that since I end up at the grocery frequently during the week.
Some times more like 3-5 times depending on if a recipe failed and I need more ingredients. Now I'm about 5 minutes from Whole Foods. I must learn to buy in bulk I suppose.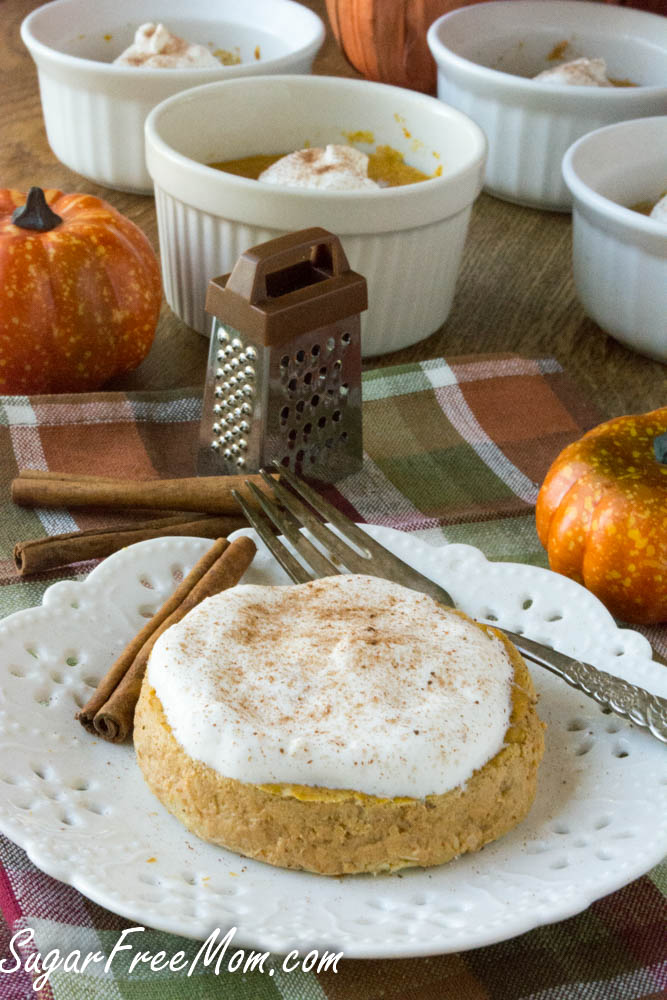 You can enjoy these little pumpkin dessert custards in the ramekin you bake them in or pop them out upside down on a plate. Make sure you grease them well or they won't be too pretty when inverted upside down.
The good thing though is that you can cover them with some whipped cream!
If you need dairy free try some Dairy Free Whipped Cream on top or leave it without out, but be sure to chill them! Tastes much better than warm since I tried it both ways of course. 
This healthy pumpkin custard recipe is in perfect little portions when made in 7 ounce ramekins. Of course even if you decide to eat two,  (because they are so good!)  the amazingly low calories won't kill your calorie budget for the day!
Low Carb Sweetener Options
This easy recipe is made without artificial sweeteners or sugar alcohols and only natural stevia, no aftertaste is evident at all.
In fact my super picky husband and oldest son actually LOVE this custard, and hubby is always the first one to comment if he notices an aftertaste!
But of course you can use whatever low carb sweetener you prefer really. I do not recommend using granulated sweetener as the pumpkin mixture will be grainy instead of smooth. 
I haven't found a low carb brown sugar sweetener that is powdered only granulated so for best results, I don't recommend using that for this recipe. 
Here's my conversion chart if you choose to use other sugar substitutes.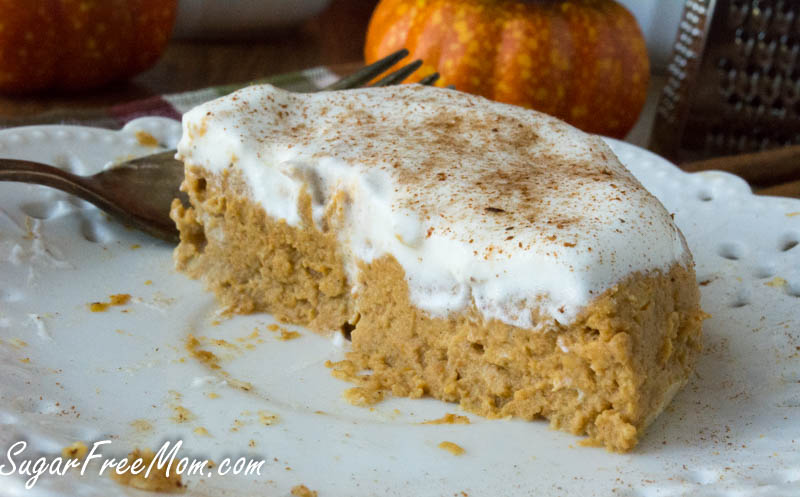 Can I use Maple Syrup or Coconut Sugar?
Of course you can choose to use any sweetener, but adding either maple syrup or coconut sugar will add higher total carbs and will spike blood sugar and this recipe will no longer be sugar free.
Can I make this a Paleo-friendly dessert?
Yes, this can easily become a dairy free pumpkin custard by replacing the heavy cream with either  unsweetened coconut milk or cashew milk. 
If you are using 1% milk the nutrition info is: 76 calories, fat: 6.7g, cholesterol: 125mg, sodium: 56mg, carbs: 7g, dietary fiber: 2g, sugars: 3g, protein: 5g.
I had to keep one old picture because this is the one below that gets pinned the most!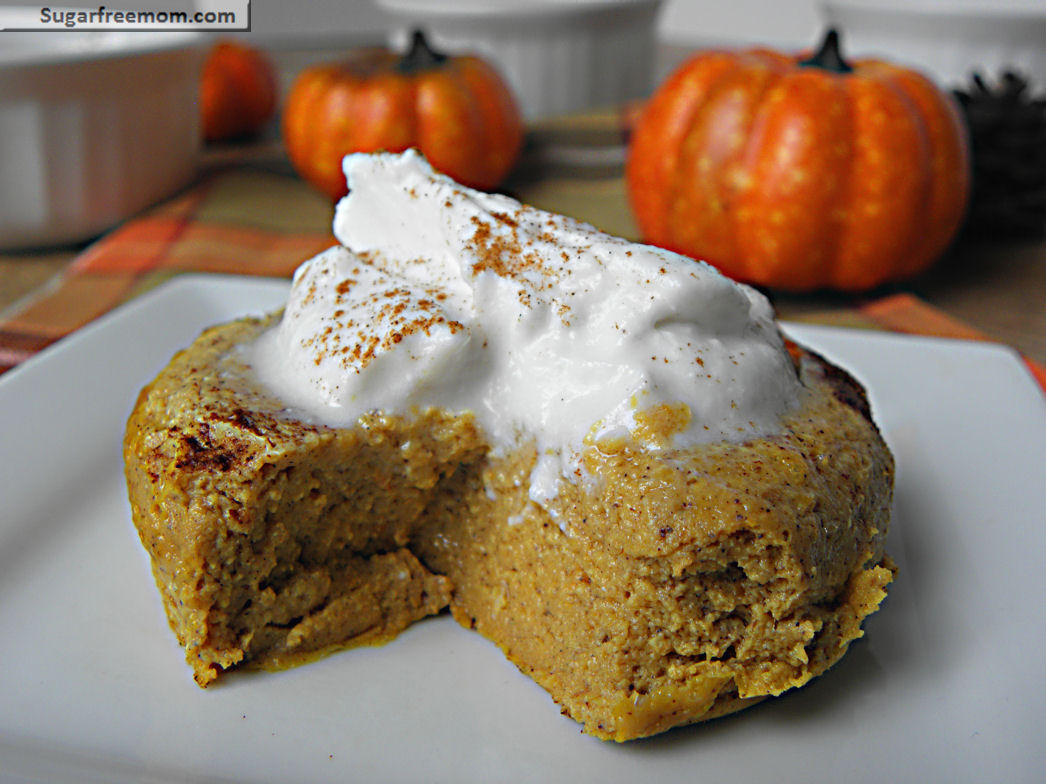 More Healthy Pumpkin Recipes
Pumpkin Bars
Pumpkin Truffles
Pumpkin Pie Fudge
Pumpkin Ice Cream
Pumpkin Cream Cheese Muffins
Pumpkin Roll
Pumpkin Pie
Easy Low Carb Pumpkin Pie Custard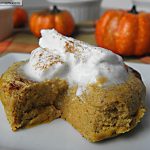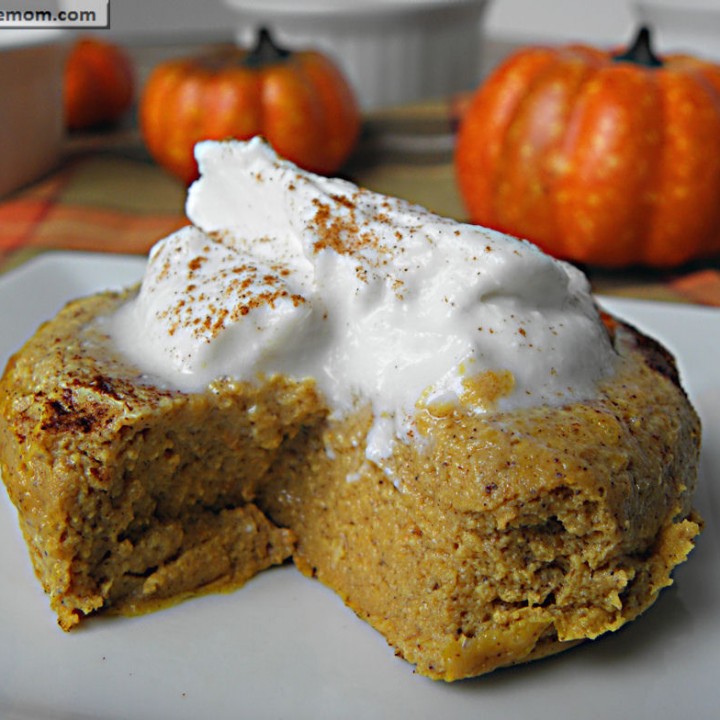 Print
Best Sugar Free Keto Low Carb Pumpkin Pie Custard
Servings 6 servings
Calories 139kcal
Author Brenda Bennett |Sugar-Free Mom
Ingredients
15

ounces

pumpkin puree

not pumpkin pie filling

½

cup

heavy cream

or use coconut cream for paleo pumpkin pie custard

4

eggs

beaten

½

teaspoon

salt

2

teaspoons

vanilla extract

2

teaspoons

pumpkin pie spice

1

teaspoon

pumpkin spice liquid stevia

or vanilla liquid stevia or even cinnamon stevia and/or maple extract

Optional: sugar free whipped cream
Instructions
Preheat oven to 350 degrees.

Spray 6 ramekins or custard cups with olive oil cooking spray.

In a large mixing bowl or stand mixer mix together pumpkin, cream eggs, spices and stevia.

Pour evenly into ramekins.

Bake for 45-50 minutes or until a knife in center comes out clean.

Best served cold.

Invert onto a plate or serve from dish.

Top with sugar free whipped cream! Sprinkle with more nutmeg!

Store covered with plastic wrap in the fridge for up to 5 days. 
Notes
Net Carbs: 5g
This recipe was first published in October 2012.
Nutrition
Serving: 1custard | Calories: 139kcal | Carbohydrates: 7g | Protein: 5g | Fat: 10g | Saturated Fat: 1g | Polyunsaturated Fat: 1g | Monounsaturated Fat: 1g | Trans Fat: 0.01g | Cholesterol: 109mg | Sodium: 239mg | Potassium: 193mg | Fiber: 2g | Sugar: 3g | Vitamin A: 11190IU | Vitamin C: 3mg | Calcium: 40mg | Iron: 2mg