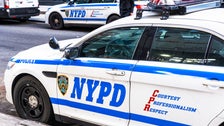 3 adolescents had been arrested Monday following an LGBTQ despise crime from a 72-year-old person in New York Town.
The boys, ages 16, 14 and 13, are billed with gang assault, dislike criminal offense assault and legal possession of a weapon.
On Sept. 15, four males assaulted a 72-year-aged man whilst using anti-LGBTQ slurs, according to the New York Law enforcement Office. They punched and kicked his head and system, and then fled the scene on foot. The man went to a area hospital, where it was established that he experienced a damaged jaw and lacerations to his facial area and fingers. The NYPD claimed its Detest Criminal offense Activity Force is investigating the incident.
According to FBI statistics for 2020, above 20% of noted dislike crimes have been associated to sexual orientation, and approximately 3% have been about gender identity.