This easy delicious keto chicken meatballs recipe is packed with cheesy flavor, baked or fried, then tossed in low carb marinara and topped with mozzarella cheese! Just 1 net carb for 2 meatballs!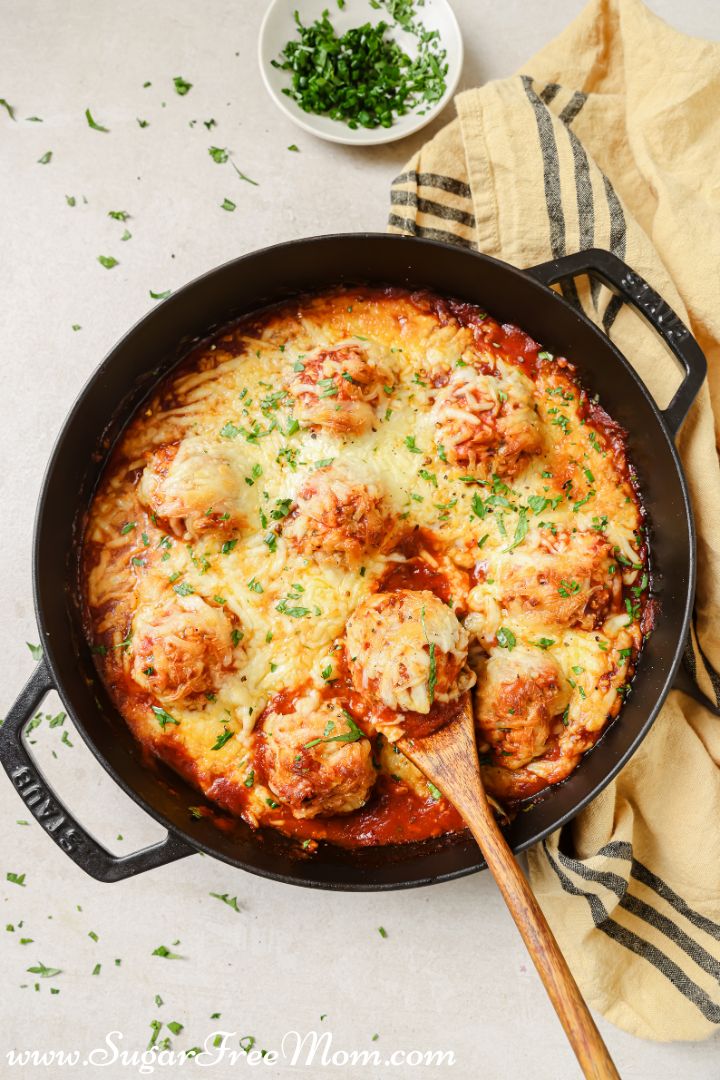 Keto Chicken Meatball Recipe
My family and I love meatballs. On nights when I don't really want to cook an extravagant meal, meatballs are my go to keto recipe!
These ground chicken meatballs are an incredibly easy recipe. Very quick to prepare and you can either bake or fry them, whichever you prefer.
No almond flour or almond meal needed or bread crumbs to hold them together when using ground chicken and baking them.
By baking the meatballs there's no need for a nut based binder. An egg keeps them perfectly formed and juicy.
If frying the juicy meatballs, for best results and to keep the meatball form in shape when frying, add some ground almonds or Italian flavored pork rinds. 
Winner winner chicken dinner for the whole family!
​Carbs in the Best Keto Chicken Meatballs
Whether you're on a low carb diet or keto diet, this great recipe can fit into your macros easily. 
Regular chicken parmesan meatballs, using the app Cronometer, which is the one app I use daily, from the brand Bells & Evans in tomato sauce and mozzarella, with a serving size of 3 meatballs has 15 grams of total carbs and 240 calories.  
Our chicken parmesan meatballs have just 7 grams of net carbs when enjoying 2 meatballs and a half cup of homemade marinara sauce and cheese.
​Carbs will be reduced if you exclude the tomato sauce and cheese.
​Here is the nutrition info for two delicious keto meatballs.
Nutrition info for just 2 meatballs, no sauce or cheese:
Calories: 213
Carbs: 2g
Protein: 23g
Fat: 12g
Fiber: 1g
Net Carbs: 1g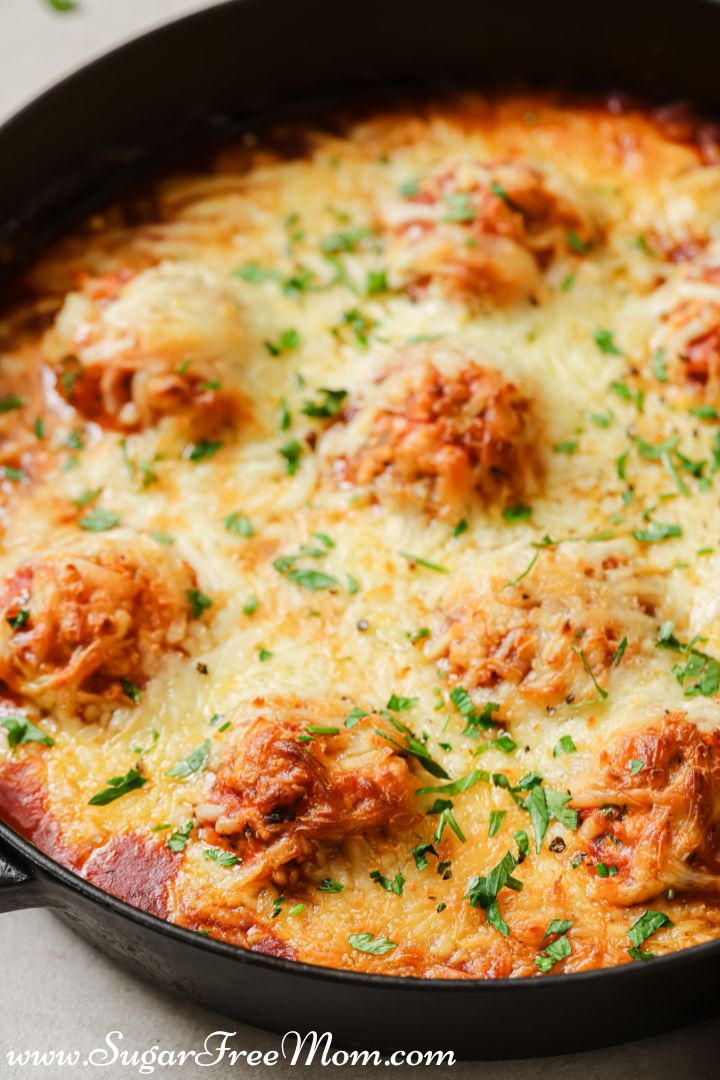 Can I make the meatball mixture with another ground meat instead?
Yes, you can easily swap out the ground chicken for ground turkey or even ground beef if you prefer.
Store Bought Tomato Sauce versus Homemade Marinara Sauce
Choose a good quality sugar free marinara sauce as it will make all the difference to the amazing taste.
Most jarred tomato sauce or marinara sauce have hidden sugars and high carbs.
If you don't have tome to make my homemade marinara sauce, Rao's is a good option for a low-carb lifestyle as it doesn't include added sugar and is low in carbs.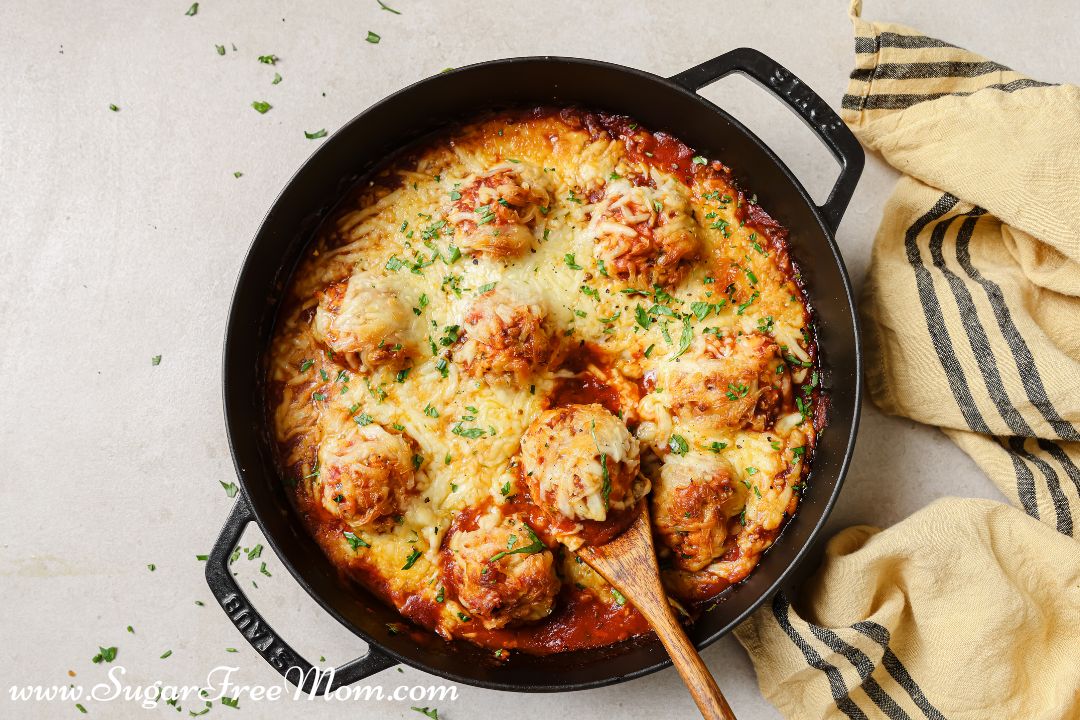 How to Serve Keto Chicken Parmesan Meatballs
Serve in a Low Carb Cloud Bread Sub Roll as a sandwich.
Serve over Zucchini Noodles or Spaghetti squash.
Serve over cauliflower rice or mashed cauliflower or just enjoy right from the baking dish!
Serve with this delicious Italian Antipasto Salad!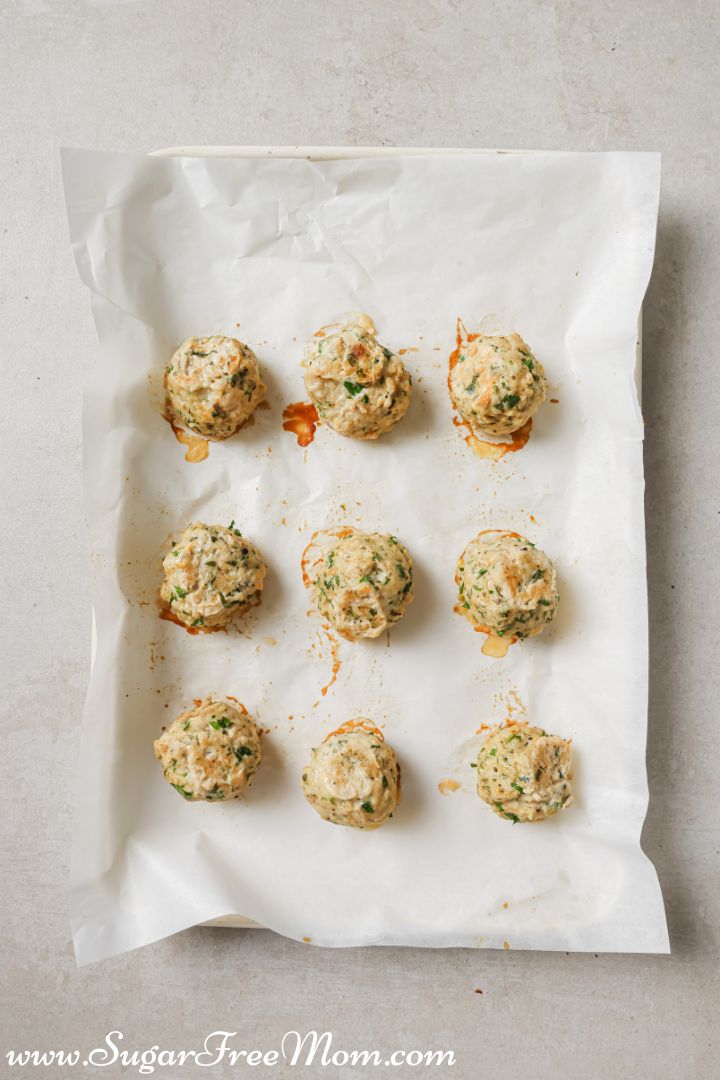 Meal Prep Low-Carb Meatballs
These easy low carb chicken parm meatballs are a great addition to meal prep ahead for school or work lunches.
The easiest way to get ahead when life, family and work are crazy busy is to make this simple recipe on a day you have the most time.
Even increasing to double the recipe is the best thing because you have an easy keto dinner recipe for during the week and the rest can be frozen. 
​You can store these cheesy keto chicken meatballs in the fridge in an airtight container for up to 5 days. Making individual servings of this healthy recipe would work as well.
They are easy to freeze as well. Just cook, add sauce and cheese or keep plain, cool and add to freezer bags or an airtight container.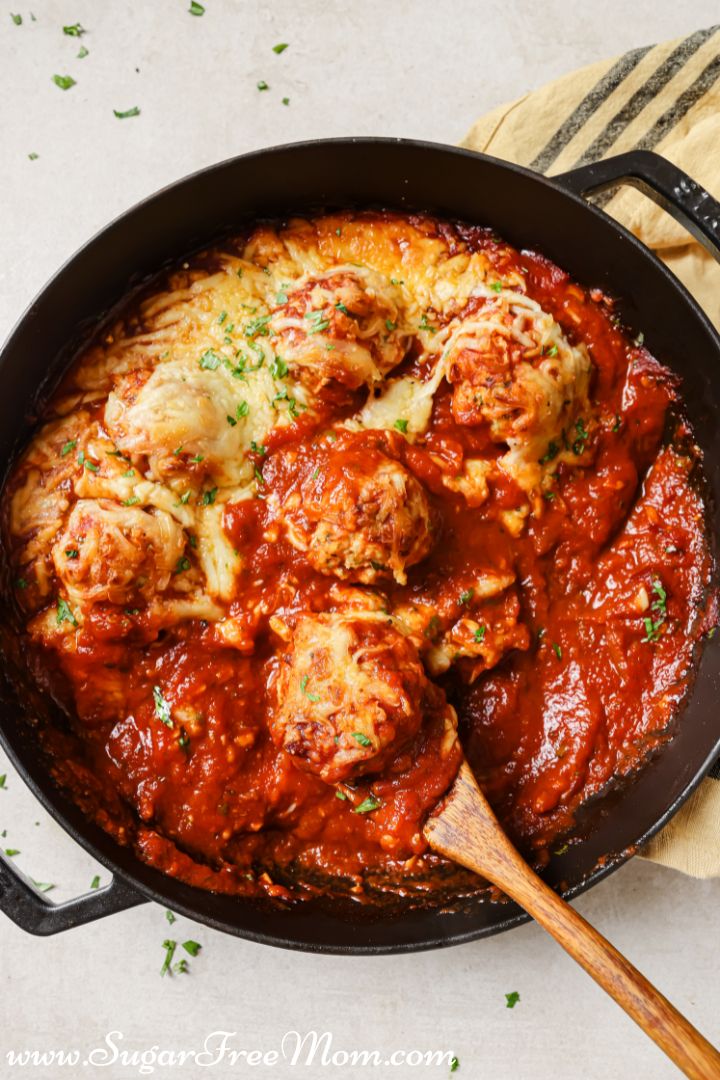 ​Low Carb Pasta Swaps
If you're looking for low carb pasta swaps, for your high carb favorite recipes, I've got you covered!
Try my homemade easy low carb egg noddles!
We also like Palmini noodles, Konjac Shirataki Noodles as well!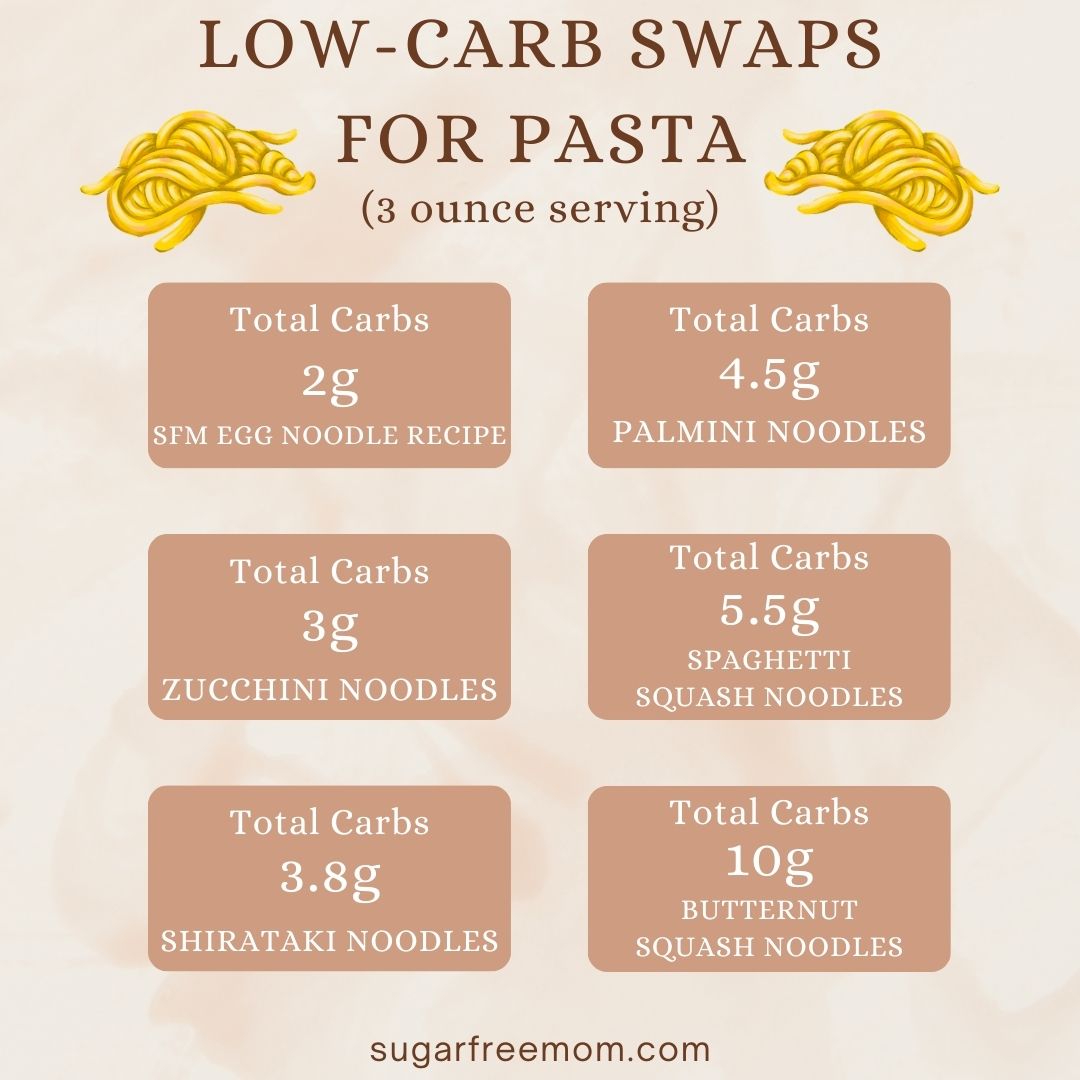 Can I Use Chicken Thighs Instead?
I love dark meat chicken, especially chicken thighs and think they make a tasty meatball.
Many people don't want to spend the money purchasing already ground chicken and I totally understand that.
If you can't find ground chicken or prefer to use less expensive chicken thighs or chicken breast instead of ground, no problem.
As long as you have a good food processor you can make ground chicken at home. Add your chicken breasts or chicken thighs to your food processor then process until ground and smooth. 
​These Low Carb Chicken Parmesan Meatballs are the ultimate family dinner recipe because everyone loves meatballs, and cheese!
Super quick and easy to make and packed with flavors of chicken parm.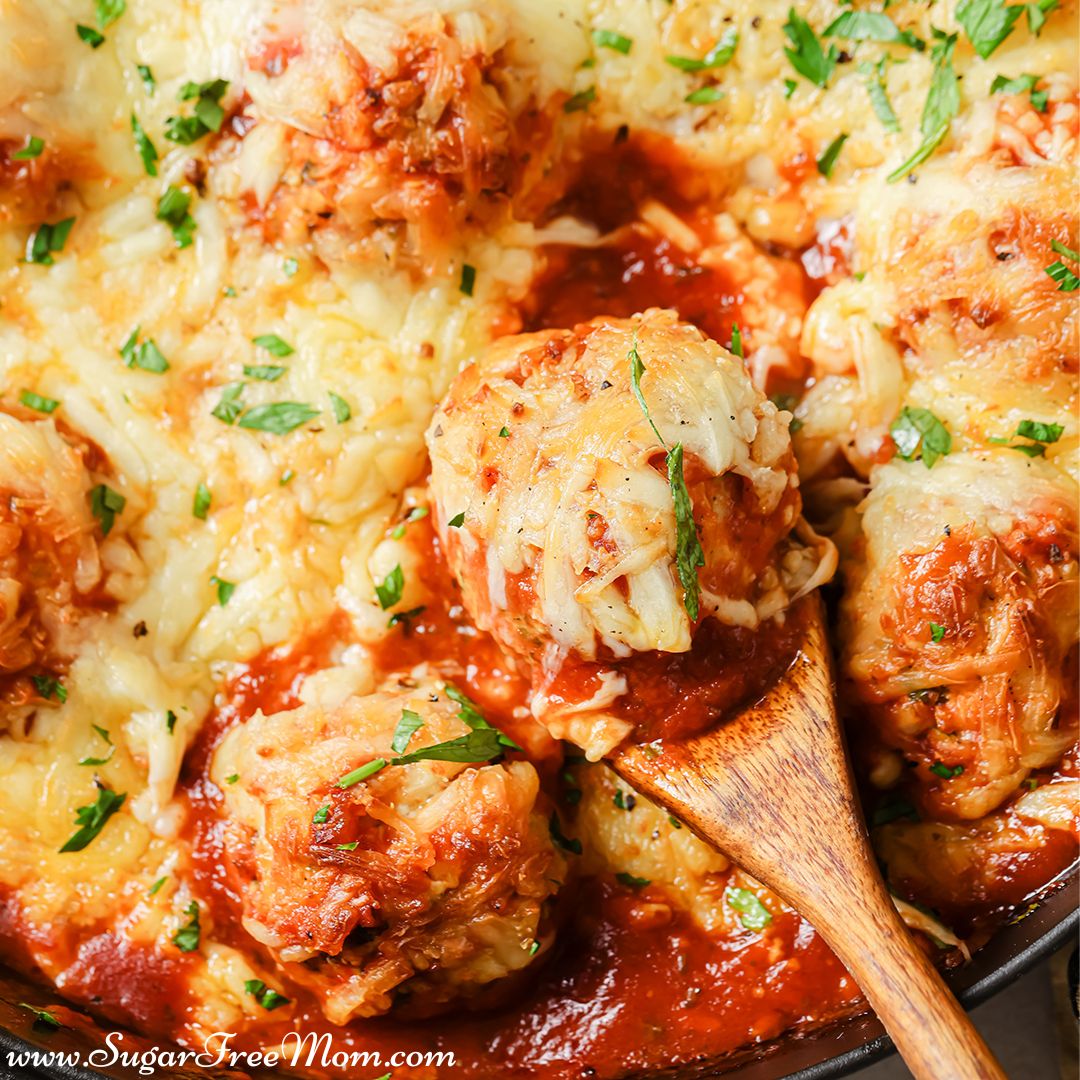 More Meaty Low-Carb Recipes you might enjoy:
Low Carb French Onion Meatballs
Spicy Chorizo Meatballs
French Dip Burgers
Cheesy Bacon Stuffed Burgers
Copycat Chipotle Barbacoa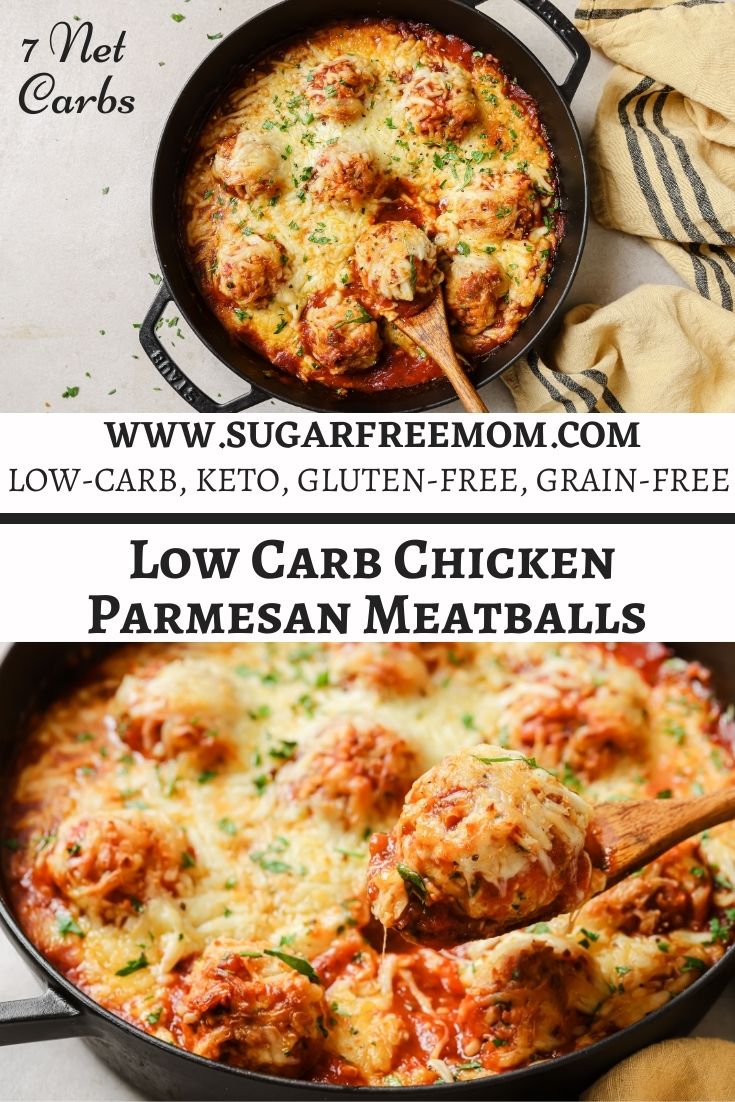 Easy Keto Chicken Parmesan Low Carb Meatballs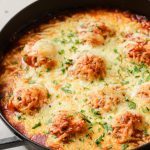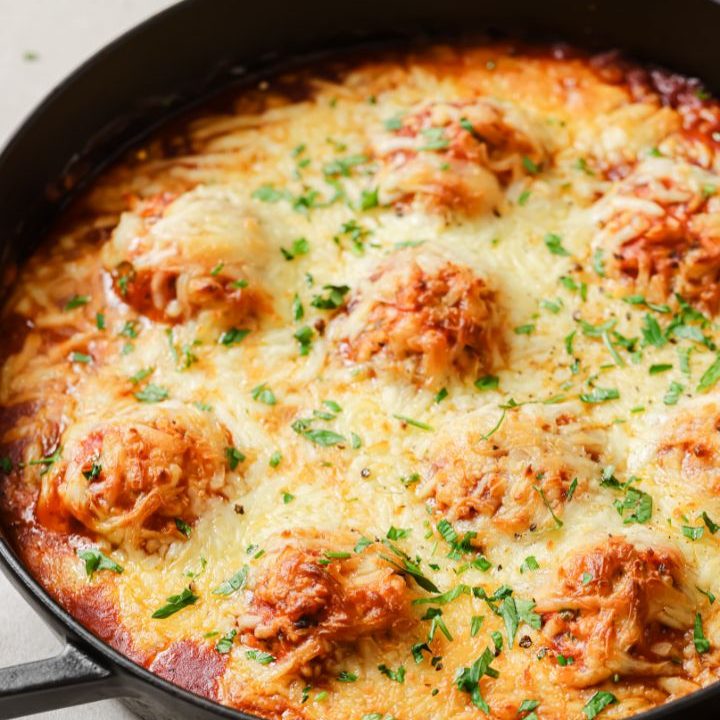 Print
Low Carb Chicken Parmesan Meatballs
These Low Carb Chicken Parmesan Meatballs are the ultimate family dinner recipe. Super quick and easy to make and packed with flavor. Serve these meatballs with a salad or roasted low carb veggies.
Servings 4 servings @ 2 meatballs, ½ cup sauce
Calories 466kcal
Author Jo Harding
Ingredients
1

pound

ground chicken

(or chicken breast or thighs in a food processor)

1

large

egg

2

cloves

fresh garlic

minced

1

teaspoon

onion powder

¼

cup

grated parmesan cheese

3

tablespoon

almonds

ground (Optional, if frying)

¼

cup

parsley

fresh, chopped

2

teaspoon

dried Italian seasoning

1

teaspoon

salt

kosher

½

teaspoon

black pepper

2

tablespoon

olive oil

(Optional, if frying)

16

ounces

low carb homemade marinara sauce

1.5

cup

mozzarella cheese

shredded

2

tablespoons

 fresh herbs, like fresh basil or fresh parsley

chopped, to serve
Instructions
Add ground chicken, egg, garlic, onion powder, parmesan cheese, (ground almonds if frying – not needed if baking) parsley, Italian seasoning, salt, and pepper to a large bowl and mix ground chicken mixture with clean hands until combined.

Form large meatballs with the meat mixture. Using a large cookie scoop makes it much easier to form even shapes.

(Recipe Note: form 2 meatballs per serving).
Baking Instructions:
Preheat the oven to 400℉ / 200C and line a baking tray with parchment paper.

Add meatballs to baking sheet tray and bake for about 25 mins until cooked through, turning once after 15 minutes. Internal temperature should be 165 degrees F.
Frying Instructions:
Alternatively (if using ground almonds too as this makes them more robust for frying) – In a large oven-safe skillet (preferably cast iron or non-stick) heat 2 tablespoon olive oil on medium heat. Sear all sides of the meatballs for about 2-3 minutes per side (or bake in oven 400F for 20 minutes).

Add marinara sauce to an oven safe large skillet. Warm for 1 minute. Add cooked meatballs and toss in the sauce. Sprinkle the shredded mozzarella evenly over top.

Put the skillet in the oven for about 10 – 15 minutes (400f / 200C) until the cheese melts. Top with fresh parsley or basil to serve.

Storage: Airtight container in the fridge for 3 days or freezer for up to 3 months.
Notes
Net Carbs 7g
Serving is 2 meatballs with ½ cup sauce and cheese.
---
Nutrition info for just 2 meatballs, no sauce or cheese:
Calories: 213
Carbs: 2g
Protein: 23g
Fat: 12g
Fiber: 1g
Net Carbs: 1g
Nutrition
Serving: 1serving | Calories: 466kcal | Carbohydrates: 9g | Protein: 35g | Fat: 33g | Saturated Fat: 10g | Polyunsaturated Fat: 3g | Monounsaturated Fat: 12g | Trans Fat: 0.1g | Cholesterol: 130mg | Sodium: 1359mg | Potassium: 689mg | Fiber: 2g | Sugar: 2g | Vitamin A: 643IU | Vitamin C: 6mg | Calcium: 420mg | Iron: 2mg