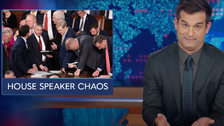 "The Everyday Show" correspondent Michael Kosta ongoing his 7 days as visitor host with a mocking look at the chaos continuing to engulf the Home GOP.
It's a "clusterfuck," he mentioned.
In fact, Republicans' failure to switch Rep. Kevin McCarthy (R-Calif.) as Dwelling speaker is the "biggest clusterfuck exterior the Center East," Kosta joked.
And Rep. Jim Jordan's (R-Ohio) failure to gain the initial vote for the gavel supplied even additional comedy fodder.
Look at Kosta's whole monologue in this article: