Smooth, rich, and delicious, this healthy tahini fudge recipe MELTS in your mouth!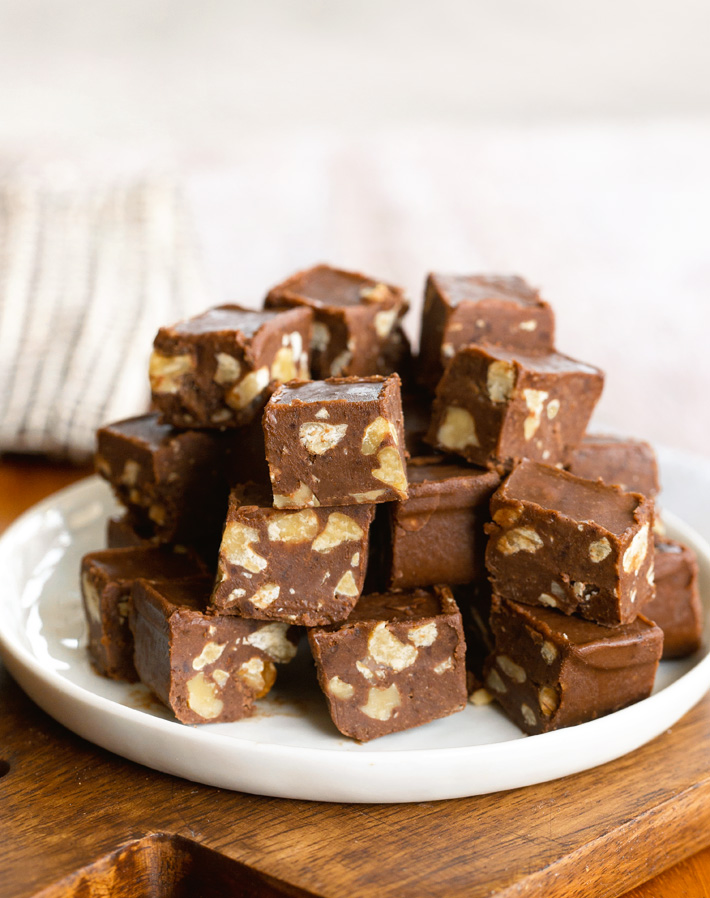 Chocolate tahini fudge recipe
Want to know the best part about this healthy chocolate recipe?
It calls for just three ingredients plus tahini, with absolutely no condensed milk or heavy cream required, yet it tastes like a truly decadent chocolate treat!
The fudge takes under five minutes to make, and you don't need any fancy equipment.
And unlike many other homemade tahini fudge recipes, this one can be dairy free, vegan, gluten free, low carb, keto, dairy free, tree nut free, and corn syrup free.
Readers also love Sweet Potato Brownies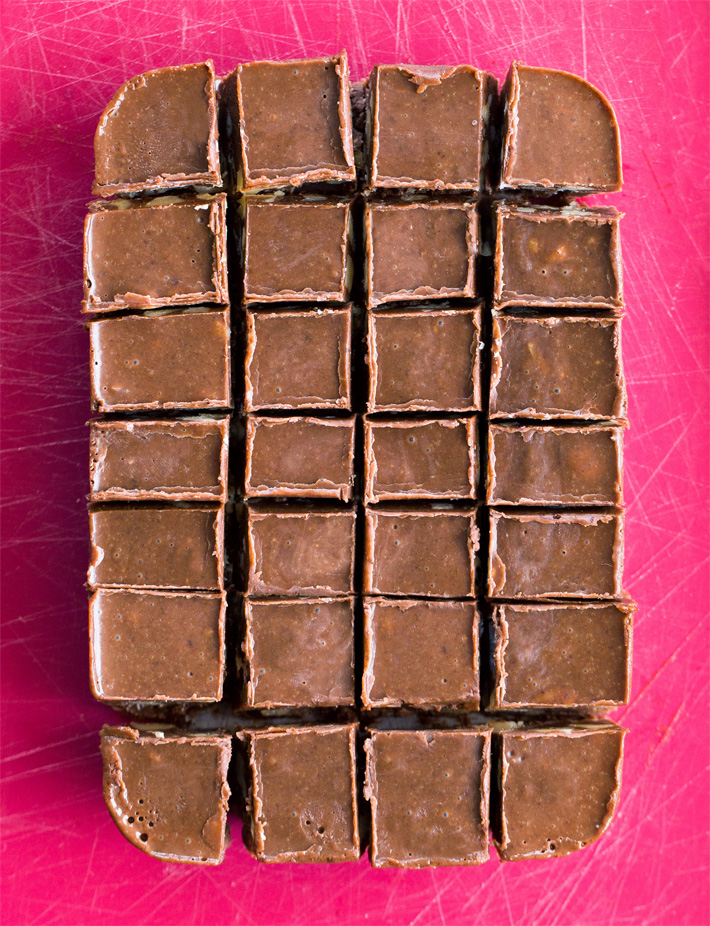 Fudge Flavor Ideas
Pistachio: Stir in a handful of roasted crushed pistachios and an optional fourth teaspoon of ground cardamom.
Salted Caramel: Add a few drops of caramel extract to the fudge, and sprinkle the finished dessert with flaky sea salt.
High Protein Chocolate Fudge: Replace the cocoa powder with an equal amount of your favorite chocolate protein powder.
Peanut Butter: Replace half of the tahini with an equal amount of creamy or crunchy peanut butter. Garnish with roasted peanut halves and shaved chocolate or cacao nibs.
Cookie Dough: Add a handful of mini chocolate chips or finely chopped chocolate to make an unbaked double chocolate tahini cookie dough fudge.
Vanilla Bean: Stir in the seeds from half a vanilla bean. Or you can add a fourth teaspoon of pure vanilla extract or a half teaspoon of vanilla bean paste.
Chocolate Peppermint: Swirl in a fourth teaspoon of pure peppermint extract (not imitation peppermint flavor or mint extract). Taste the batter, and double the amount of extract if a stronger flavor is desired.
Mocha: Add a half teaspoon of instant coffee granules to the recipe before stirring.
You may also like these 3 ingredient Chocolate Truffles
Tahini freezer fudge ingredients
Tahini: Raw tahini or roasted tahini are equally wonderful for making fudge.
Cacao Powder: For raw tahini fudge, use raw cacao powder. Regular unsweetened cocoa powder also works. For a fun flavor twist, try carob powder.
Coconut Oil: Refined coconut oil has no discernable coconut taste, while virgin coconut oil imparts a subtle coconut flavor. Either is fine to use.
For tahini fudge without coconut, try these Easy Chocolate Fudge Bars.
Sweetener: I like the flavor of pure maple syrup. You may also use honey or agave. For sugar free tahini fudge, choose vanilla or plain stevia drops.
Optional Ingredients: Feel free to add a sprinkle of dark chocolate chips, chia seeds, cinnamon, pecans or macadamia nuts, popcorn, chopped dates, diced pretzels, or sliced almonds to the fudge. This time, I added walnuts.
Tahini fudge recipe video
Watch the step by step recipe video, above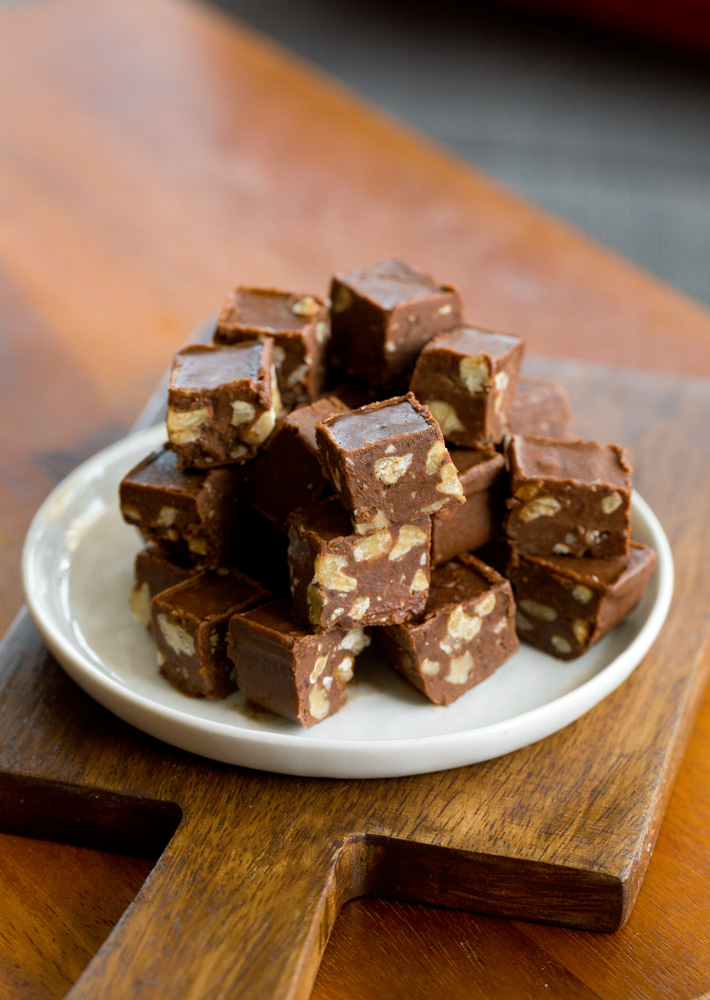 How to make healthy tahini fudge
Gather your ingredients, and take out a small container, ice cube tray, or candy molds.
If the coconut oil is not already in liquid form, gently warm it in a saucepan, on a candle warmer, or in the microwave for a few seconds until it melts.
Stir the tahini, cacao powder, coconut oil, liquid sweetener, and all optional mix ins in a medium bowl until it forms a smooth and even batter with a thin texture.
Spread the mixture into your container, tray, or candy molds. If using a container, I like to line the base with parchment paper so the fudge is easy to remove later.
Freeze for at least a half hour, until hard and set.
Slice into bars, squares, bites, triangles, or shapes of choice. If the fudge is too firm to slice easily, simply let it sit out on the counter for a few minutes, then try again.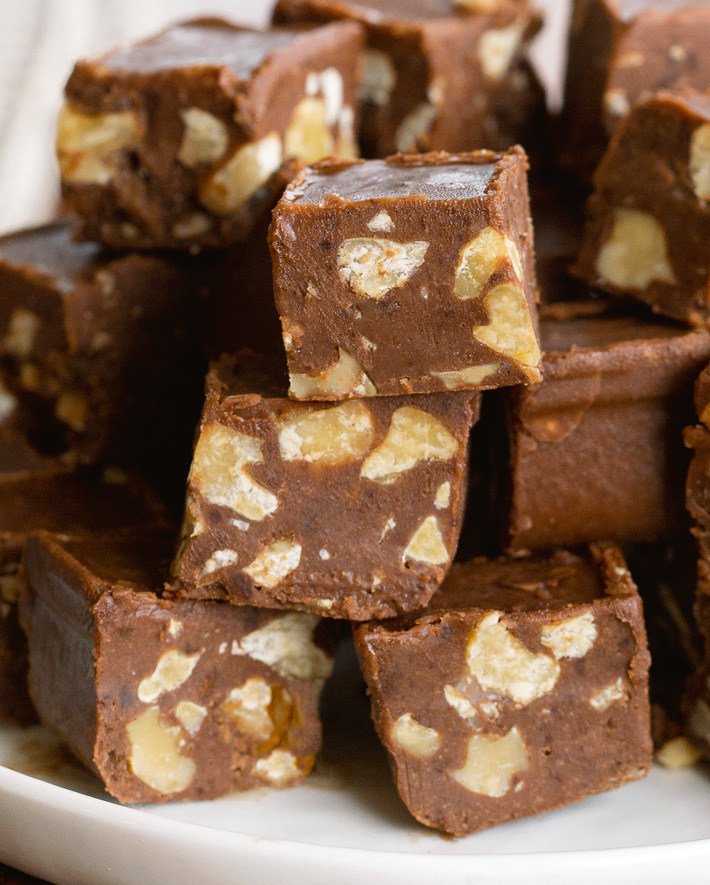 Sesame halva or halvah
This no bake tahini fudge is very similar to the popular Middle Eastern sesame sweet confection, but with a few contrasts.
One of the main difference between the two is that this one is not cooked on the stove and requires no candy thermometer.
While the treats call for many of the same ingredients, they possess different textures thanks to their dissimilar preparations.
Traditional halva has a flaky, crumbly texture, whereas the texture of today's tahini fudge is smooth and silky. Both desserts are deliciously dense and rich.
Use leftover tahini to make Tahini Cookies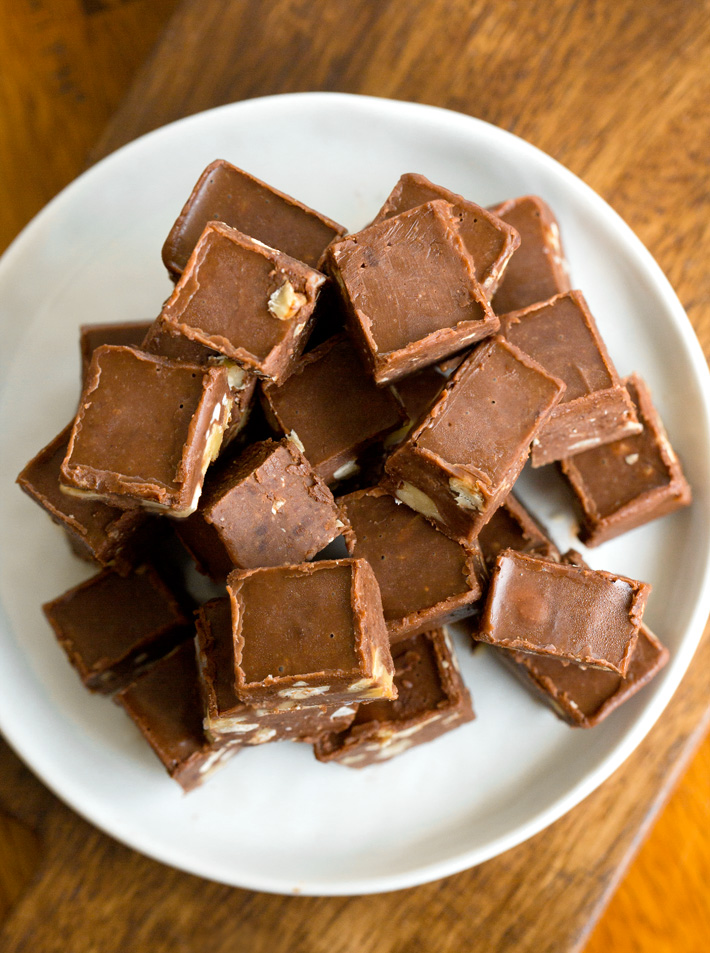 Tahini fudge for parties
While the freezer fudge recipe below is absolutely addictive, it is not something I would recommend for serving at a party or at any event where you cannot keep it refrigerated or frozen.
The good news, however, is that you can easily make a two ingredient chocolate tahini fudge that needs no refrigeration and is perfect for holiday dessert trays.
Simply melt nine ounces of chocolate chips, stir in half a cup of tahini, and freeze the melted chocolate mixture in an eight inch pan. Slice into bars, then serve and enjoy.
Tips for best results
If you are unfamiliar with the flavor of tahini, it is wonderfully unique.
However, the strong flavor is not for everyone. If you find it too bold, you can substitute the tahini for peanut, cashew, macadamia, or almond butter. The recipe will set up just the same. Of course, it will no longer be tahini flavored fudge.
Do not skimp on any of the ingredients. If you cut back on the sweetener, the fudge may taste bitter. Cut back on the oil or tahini, and it might not fully set.
Because the coconut oil gives the recipe its solid shape and texture, olive oil or another oil cannot be substituted, and the coconut oil should not be omitted.
If you use stevia, be sure to go with a brand you already know that you like. Some brands of stevia have an aftertaste that not everyone will enjoy.
Thanks to the melty nature of the ingredients, it is best to store this chocolate tahini dessert in the freezer so it will retain its shape.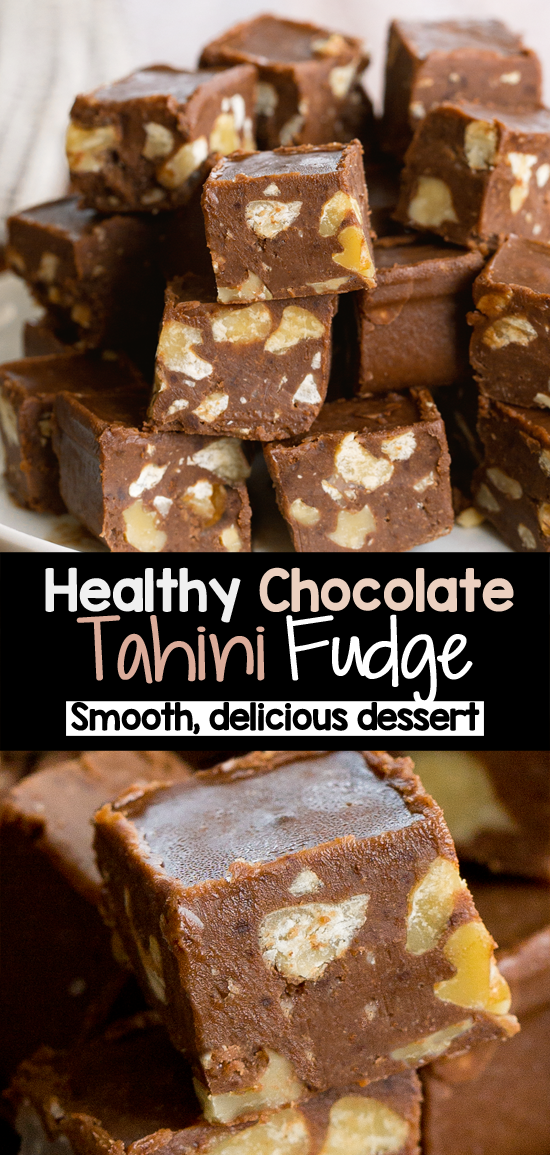 1/2

cup

tahini

1/4

cup

cacao powder

or cocoa powder

1/4

cup

coconut oil

2

tbsp

pure maple syrup

or honey, or stevia drops to taste

optional walnuts, pistachios, chia seeds, chocolate chips, pecans, etc.
To make tahini fudge, melt the coconut oil if not already melted. Stir everything together until smooth. Spread into a small container, ice cube tray, or candy molds. Freeze until set. Slice into squares or bars. Store leftovers in the fridge or freezer.

View Nutrition Facts
More No Bake Chocolate Desserts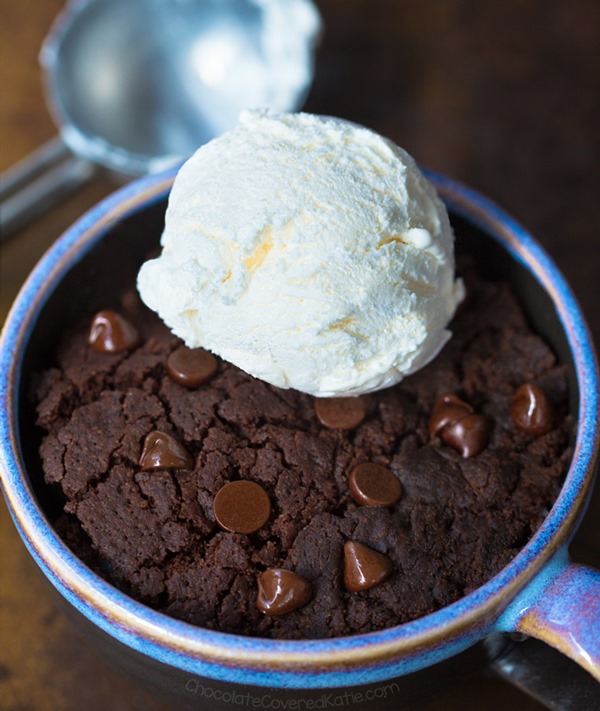 Brownie In A Mug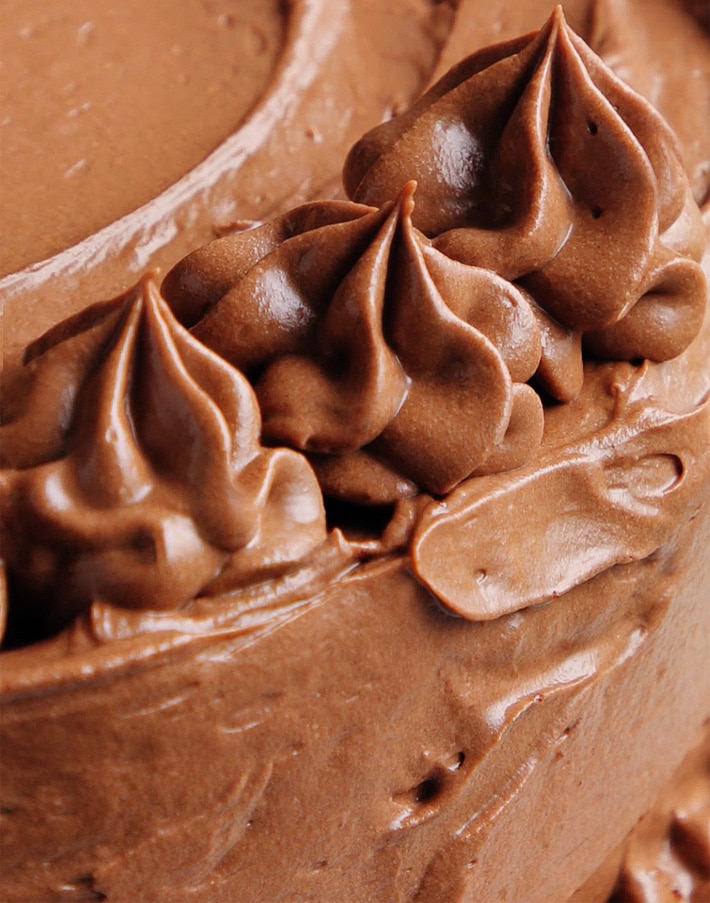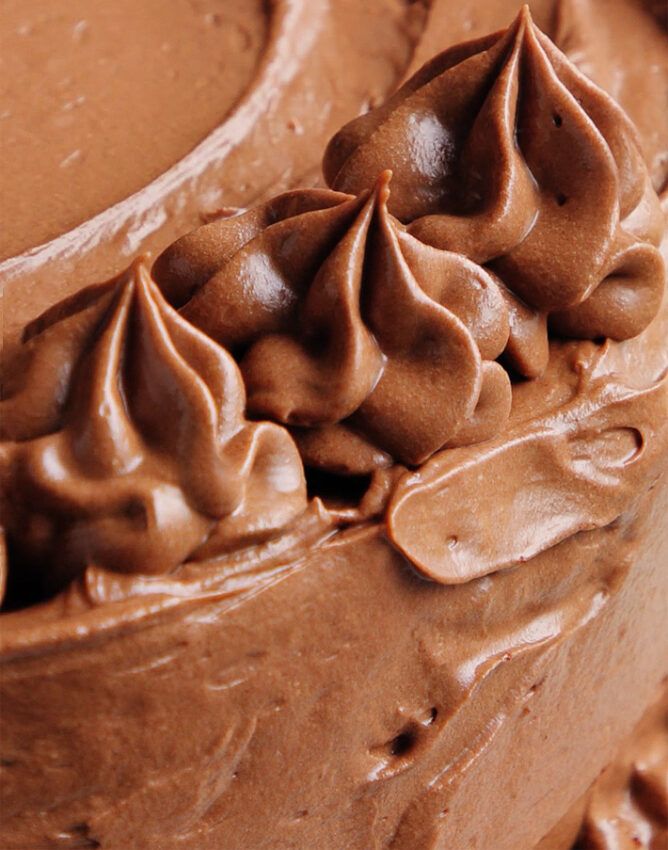 Chocolate Cream Cheese Frosting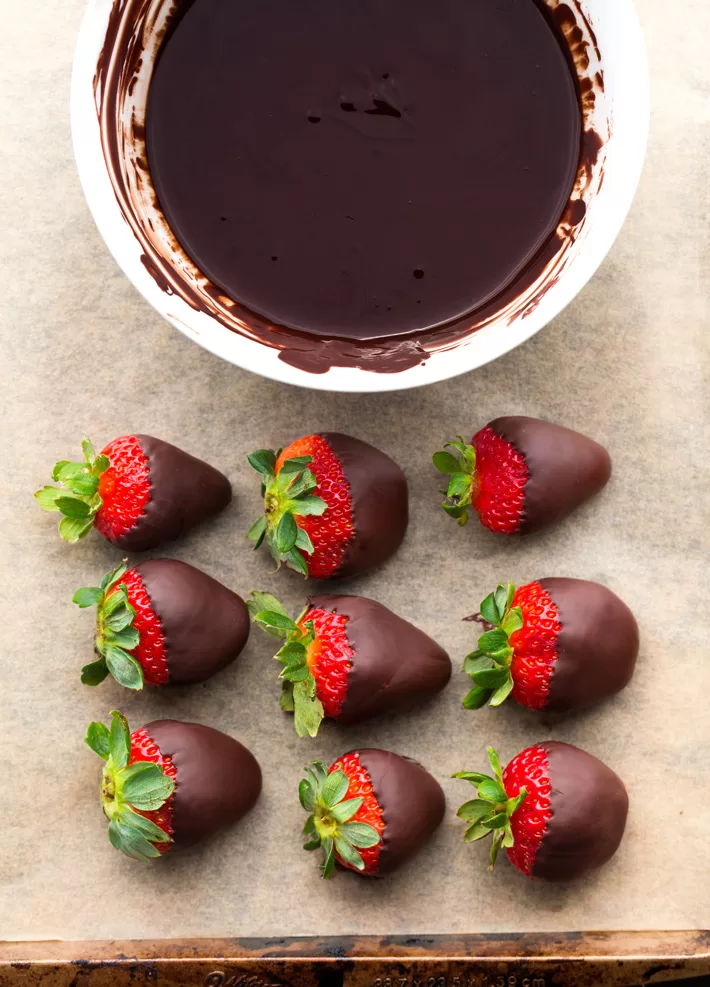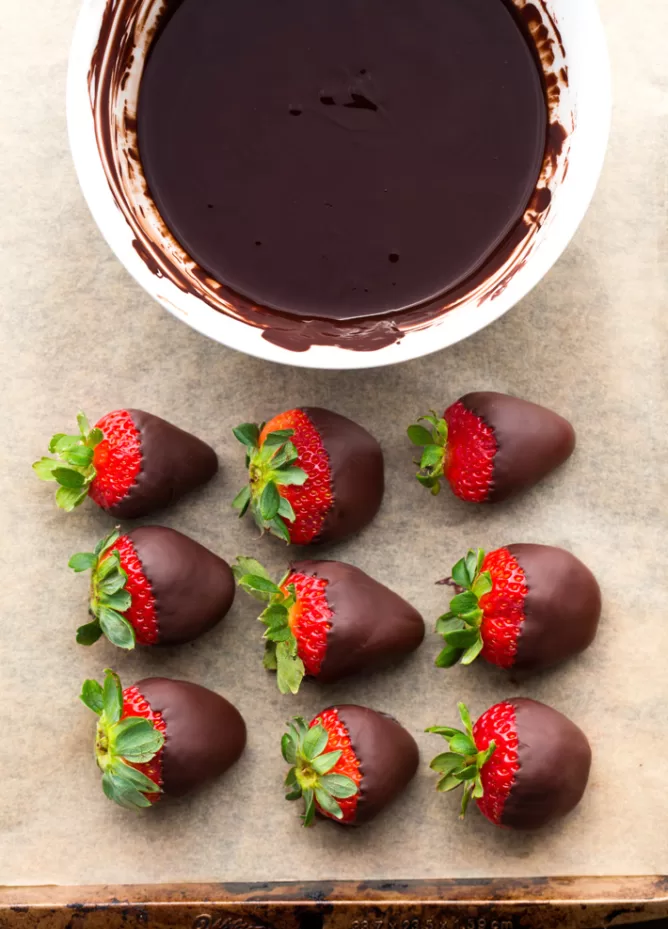 Chocolate Covered Strawberries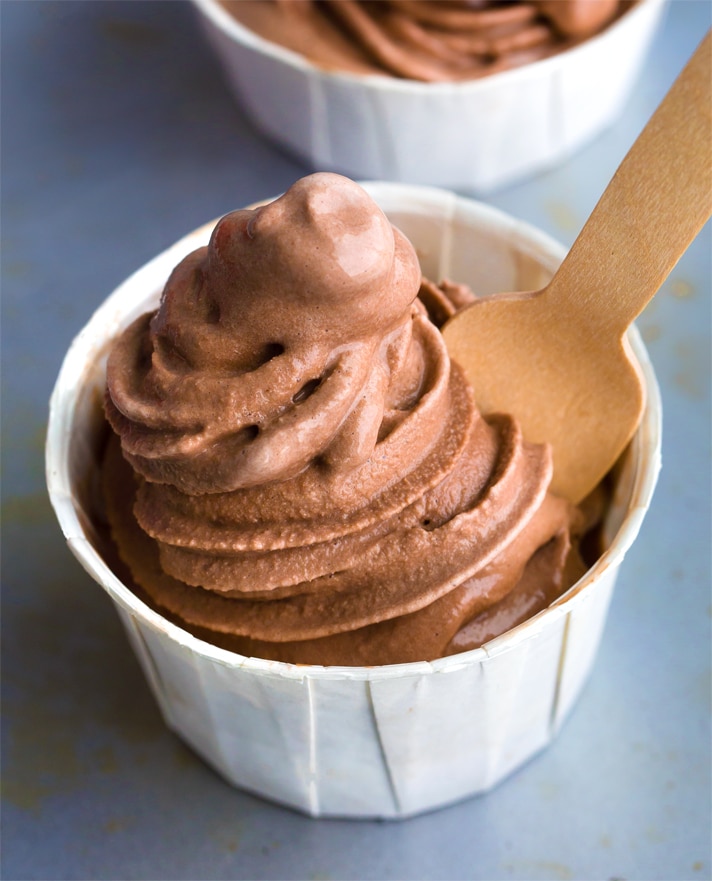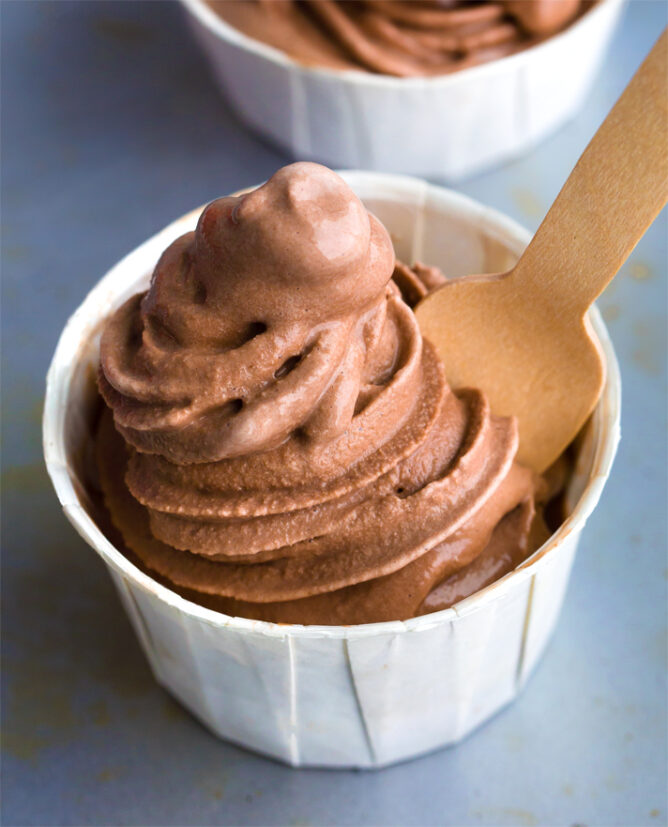 Protein Ice Cream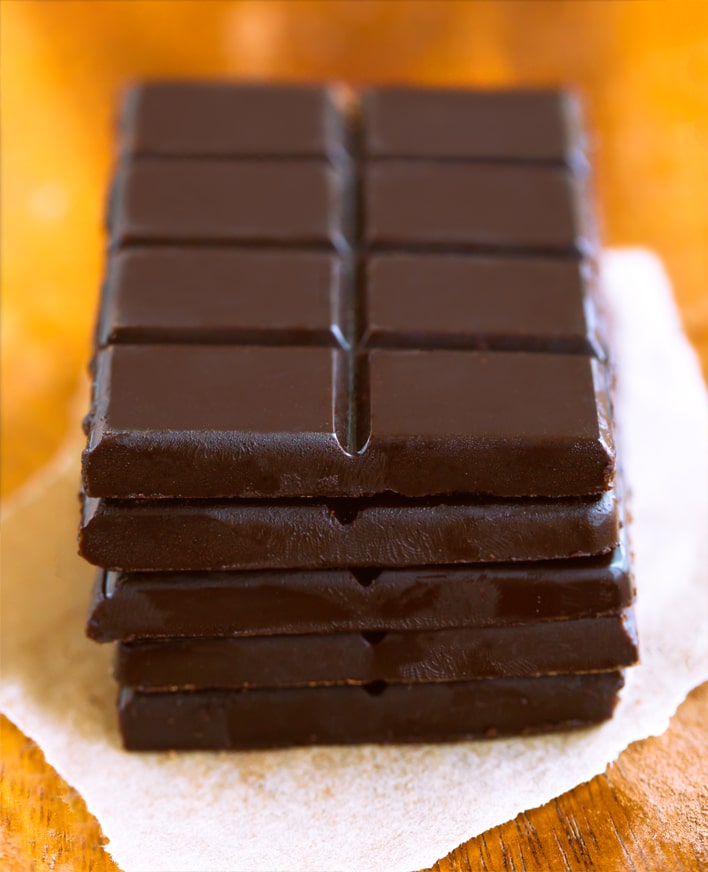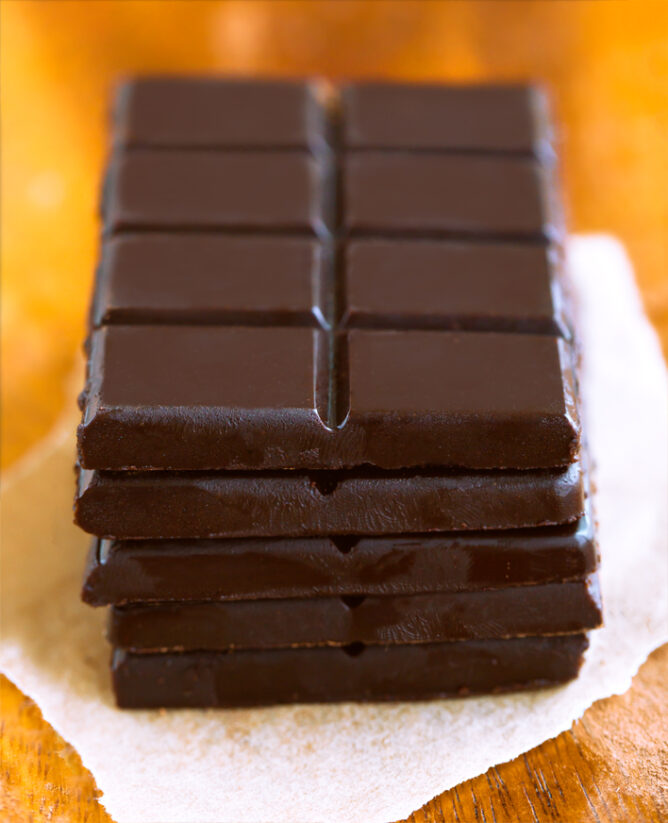 Homemade Chocolate Bars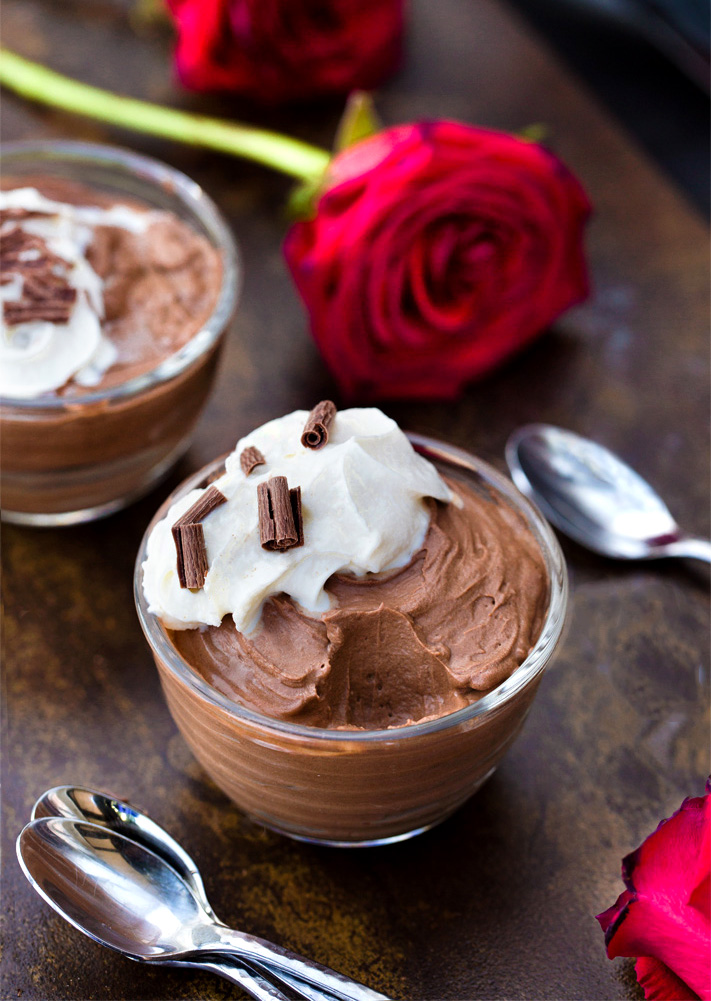 Vegan Chocolate Mousse
Or this Keto Chocolate Mousse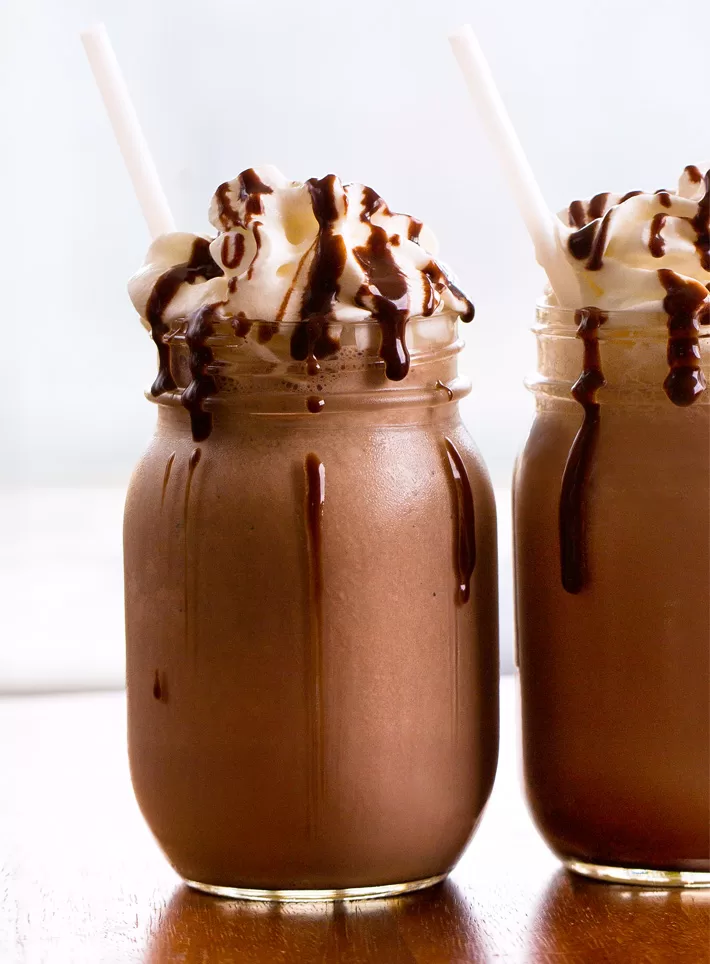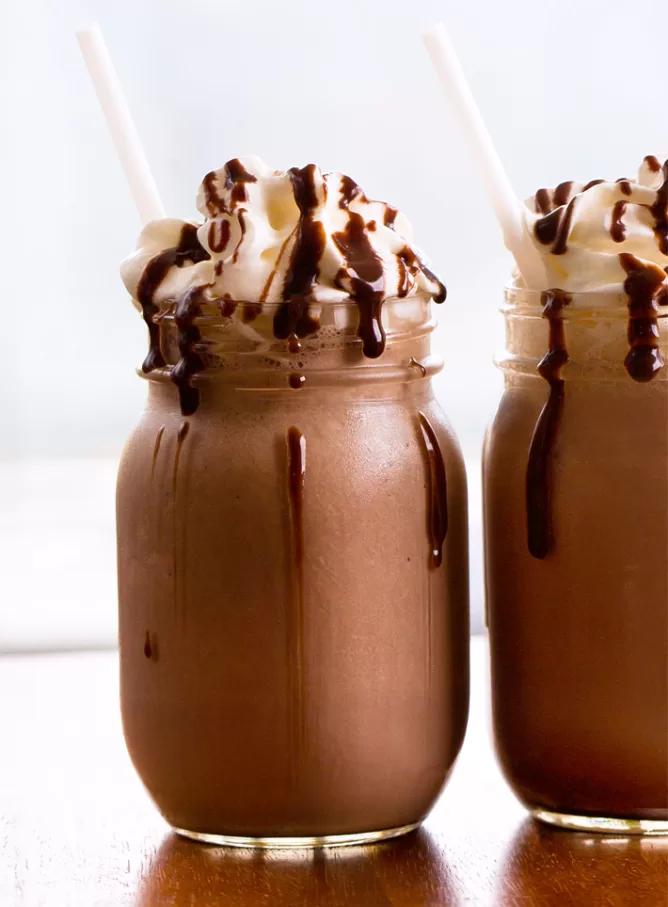 Chocolate Smoothie