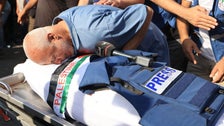 At the very least 12 journalists have been killed in the past eight days in the Israel-Hamas war, ticking the dying toll for media employees covering the conflict up to 36.
Hamas, a militant team based mostly in Gaza, unleashed a shock attack on Israel on Oct. 7. In retaliation, Israel launched airstrikes at the territory and declared war. An approximated 10,000-plus people — 9,000 in Gaza and the West Lender and 1,400 in Israel — have been killed, along with journalists who have been covering the humanitarian disaster in Gaza and the total war.
The Committee to Secure Journalists documented that as of Friday, 31 Palestinian journalists, four Israeli journalists and one Lebanese journalist have been killed because the war broke out on Oct. 7. CPJ also claimed a number of other journalists injured, missing or arrested, and described censorship, threats, assaults, cyberattacks and the killing of journalists' spouse and children customers.
"CPJ emphasizes that journalists are civilians performing essential function during occasions of disaster and must not be qualified by warring get-togethers," Sherif Mansour, CPJ's Center East and North Africa program coordinator, mentioned in a statement.
"Journalists throughout the area are earning terrific sacrifices to go over this heart-breaking conflict. Individuals in Gaza, in specific, have paid out, and continue to pay back, an unparalleled toll and confront exponential threats. Numerous have shed colleagues, households, and media facilities, and have fled seeking security when there is no harmless haven or exit."
The Israel Defense Forces instructed Reuters on Oct. 27 that it could not assure journalists' protection in Gaza.
Among the the journalists killed this 7 days were being Palestinian journalist Yasser Abu Namous, who worked for the media organization Al-Sahel, and Nazmi Al-Nadim, who labored for Palestine Tv. Equally have been killed by airstrikes at their respective families' homes in Gaza on Oct. 27 and Oct. 30.
Al-Nadim's family died with him, the fate of other journalists and their households this 7 days as perfectly.
On Nov. 2, journalist and correspondent for Palestinian Tv Mohammad Abu Hattab was killed together with 11 associates of his household in an Israeli airstrike at their home in the Gaza Strip.
Shortly just after Abu Hattab was killed, his colleague Salman Al-Bashir appeared on the channel.
"Our colleague Mohammad Abu Hattab was standing in this article only 30 minutes ago, and now he still left us, together with his spouse, his brother, and several associates of his household are now victims in this article inside the clinic," Al-Bashir reported, according to CNN.
Al-Bashir also delivered emotional terms about the perilous realities facing journalists covering the war.
"We simply cannot bear this any longer. We are exhausted, we are below victims and martyrs awaiting our fatalities, we are dying one after the other, and no just one cares about us or the large-scale catastrophe and the criminal offense in Gaza," he reported on air.
"No defense, no worldwide safety at all, no immunity to anything, this protection equipment does not defend us … These are just slogans that we are wearing, it does not shield any journalist at all."
As Al-Bashir spoke, he took off his helmet and protecting push equipment.
"We are victims, dwell on air," he reported, his voice cracking. "We are victims awaiting our switch to be killed. Mohammad was right here 50 percent an hour in the past [reporting]. Now he lies lifeless with his family members in this very same hospital."