Audiences will get a chance to return to the drama-filled halls of North Shore High School this winter when the movie musical reimagining of "Mean Girls" hits theaters.
The new generation of Plastics made their debut Wednesday when Paramount unveiled the first trailer for "Mean Girls," which opens Jan. 12, 2024. The movie stars Angourie Rice as Cady Heron, the North Shore newbie who infiltrates the school's most popular clique when she befriends Regina George (Renée Rapp), Karen Smith (Avantika) and Gretchen Wieners (Bebe Wood).
Directed by Arturo Perez Jr. and Samantha Jayne, the new "Mean Girls" is an adaptation of the 2018 Broadway stage musical, which was based on the 2004 film starring Lindsay Lohan and Rachel McAdams.
Oddly, the trailer makes no reference to the film being a musical ― a point that did not go unnoticed by many fans and media outlets. It's an especially surprising choice given that Rapp is reprising her Broadway role, and the stage production was nominated for 12 Tony Awards.
Watch the trailer for "Mean Girls" below:
"Wait, don't you have songs? Why aren't you emphasizing your songs? You're a musical, right?" one person wrote.
Added another: "Releasing a trailer for the movie musical with…no evidence of it being a musical. What an incredibly odd, bad decision."
Reprising their roles from the 2004 film are Tina Fey and Tim Meadows as Ms. Norbury and Principal Duvall, respectively. New to the "Mean Girls" universe are Jenna Fischer as Cady's mother, Busy Philipps as Mrs. George and Jon Hamm as Coach Carr.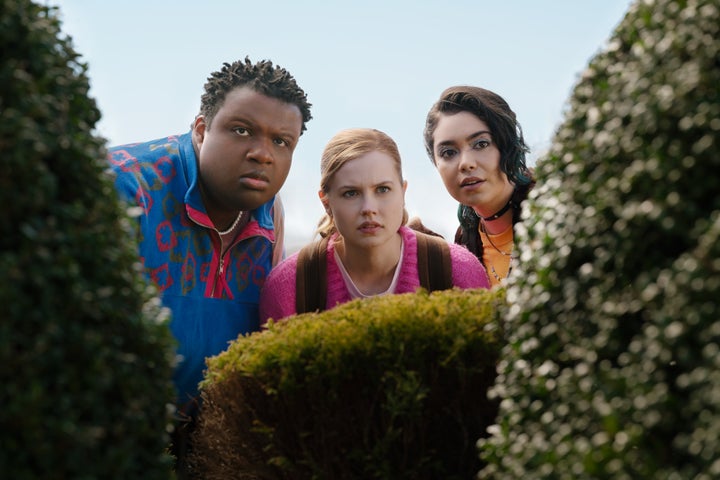 The scripts for both versions were written by Fey, while the musical version featured songs by Nell Benjamin and Jeff Richmond, who is Fey's husband.
Though the trailer seemingly obscures the new film's Broadway roots, Fey assured "Entertainment Tonight" in an interview that it will appease fans of both the 2004 film and the stage adaptation.
"It felt like we could kind of have the best of both worlds," she said. "We could have this great music, while still being able to live with our characters in a closeup ― to be able to have new jokes and new moments that are surprising to people."
She went on to note: "I think that people are going to love this cast. I think that people are going to love these songs. And I hope that people will find moments where they're like, 'Oh, I didn't expect that!'"