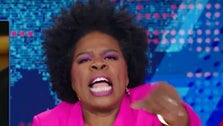 "Daily Show" guest host Leslie Jones broke out the popcorn for a wild moment in Congress on Tuesday when Sen. Markwayne Mullin (R-Okla.) experimented with to bodily combat labor union chief Sean O'Brien in the center of a committee hearing.
Very first, she mocked Mullin's title.
"His mom and dad did not even like him sufficient to select a person name for him. They just shoved two names jointly and called it a working day," she claimed. "'Calm down, Markwayne' is not some shit I want to hear on C-SPAN. It's what you listen to when you check out an episode of 'COPS.'"
Upcoming, the actor puzzled what it intended for the country.
"Is that what The us has come to, persons battling in the Senate?" she requested. "Because if it is, I want in!"
And lastly, she named the three U.S. Senators she wants to combat.
"Lindsey Graham, I want you in the ring!" she challenged. "Ted Cruz, provide your bizarre-ass beard so I can defeat your ass."
She also wished a piece of Senate Minority Chief Mitch McConnell (R-Ky.), then considered the improved of it when a image of the lawmaker appeared.
"Aww, somebody currently strike him," she cracked.
See her whole assessment of the Senate struggle club in her Tuesday evening monologue: